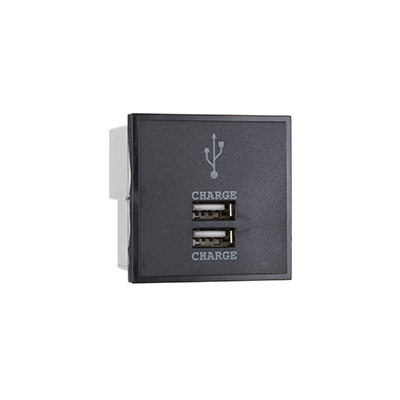 2 Amp Black Twin USB Charger Module. 2A or (2 x 1A)
Product Code: 53-7002-B
£10.28 Exc.VAT
£12.34 Inc.VAT
| Qty | Web Price |
| --- | --- |
| 1 | £10.28 |
| 5 | £9.59 |
Availability: Medium Stock
ROYAL MAIL 3-4 DAYS
COURIER 2 -3 DAYS
COURIER NEXT DAY
£4.99 + VAT (WEIGHT APPLICABLE)
£7.99 + VAT
£9.99 + VAT
Black USB A charger module compatible with standard UK frames. Two x 1 amp sockets
Features:
USB Charger Module
50mm x 50mm, compatible with standard UK frames
Low Voltage Directive 2006/95/EC, EMC Directive 2004/108/EC, IEC 60950-1, IEC 61000-6-1/3
ROHS and REACH Certified,
Why do I need this USB Charger?
Recently the GSMA announced an agreement with the majority of mobile phone operators and manufacturers to implement a cross-industry standard method for charging portable devices. That chosen standard is USB.
What will it charge?
The charger has been developed to work with most modern day portable USB devices such as:
Mobile Phones Tablets (Apple iPad, Blackberry Playbook, Motorola Xoom etc.)
E-readers (Amazon Kindle, Bookeen Cybook etc.)
Satellite Navigation (TomTom, Garmin etc.)
Installation of the USB Charger
The charger can be installed wherever there is an existing mains socket with a suitable back box. Refer to installations instructions for notes on wall plate and mounting box compatibility.
The USB chargers are wired directly into the mains and should installed by a competent person, in accordance with the current IEE Wiring Regulations (BS7671). Installation instructions are supplied with each unit.
USB Charger - Relevant Standards
All the modules comply with the following EC Directives:
Low Voltage Directive 2006/95/EC
ROHS Directive 2002/95/EC
WEEE Directive 2002/96/EC
REACH Directive 1907/2006
EMC Directive 2004/108/EC
IEC 60950-1IEC 61000-6-1/3
Technical Information
SKU: 53-7002-B
Length of Cable: Screw