Double Gang Twin Hdmi, 1 X Svga, Usb B, 3.5, Rca Wall Plate
Double Gang Twin Hdmi, 1 X Svga, Usb B, 3.5, Rca Wall Plate
Code : 52-4524-W
Weight : 0.10 Kg
Description
Premium quality plug and play wall plate Ideal for connecting projectors to whiteboards or projection screens. Manufactured and assembled onsite and fully tested.
This easy install projector wall plate with all coupler connections is ideal if you are looking for a plug and play installation. No soldering required on the faceplate, all the AV connections are female on the front of the wall plate and female on the rear. Each cable is 15cm in length allowing extra flexibility with your audio visual install. The 8 connection double gang projector faceplate has 2 x HDMI (1.4v), SVGA, 3 x Phono, Audio, SVGA and USB B.
Our wall outlets are ideal for all industries including school and business installations where you are connecting a projector and a interactive whiteboard or projection screen together, or a training room where you are presenting a short throw projector onto a screen.
Front wall plate connections:
2 x HDMI -

Female Sockets
3 x RCA (RWY) -

Female Sockets
1 x 3.5mm -

Female Socket
1 x SVGA -

Female Socket
1 x USB B -

Female Socket
Rear wall plate connections:
2 x HDMI -

Female Sockets
3 x RCA (RWY) -

Female Sockets
1 x 3.5mm -

Female Socket
1 x SVGA -

Female Socket
1 x USB A -

Female Socket
Faceplate attributes:
86mm x 146mm twin outlet
Fits standard UK back box (Supplied with a 45mm depth back box)
White Plastic
Other Customers Were Interested In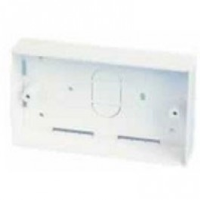 Price (inc. VAT): £1.78
Price (exc. VAT): £1.48