Double Gang White HDMI Coupler Wall Plate.
Double Gang White HDMI Coupler Wall Plate.
Code : 52-5068-W-FLY
Description
A high quality UltraHD 4K2K HDMI wall plate with a fly lead coupler connection. Latest 2.0v HDMI specification High Speed with Ethernet (HD, 3D, 4K, 4096, Deep Colour). A simple plug and play connection type with no soldering req
This premium quality 4K2K HDMI plug and play wall plate outlet has a female socket connection on the front and rear of the faceplate. The HDMI cable is 15cm long (155mm) with female coupler connections either end and is rated to the the latest 2.0 version (1.4v backwards compatible), UltraHD High speed with ethernet, (3D, HD, 4K, 4096 x 2160, Deep Colour). Available in White faceplate colour, double gang outlet 146mm x 86mm to fit a standard UK back box.
Front of wall plate:

Rear of wall plate:

Wall Plate Attributes:
1 x HDMI 2.0v (4K2K, 18Gbps, 60Hz, High Speed Ethernet specification, UltraHD, 3D, HD, 4096, Deep Colour)
UltraHD (4096 x 2160) Full HD 1080p (1920 x 1080).
Double gang (146mm x 86mm)
Screws Supplied
Fits standard UK back box
Available in White

The HDMI faceplate is ideal if you want to hide messy cables within the wall or trunking, this connection wall plate allows you to connect your LCD, plasma, television or monitor with a HDMI connection to an AV device such as projector, laptops, DVD's, Blu-Ray, gaming consoles such as playstation and xbox and PC's.
Other Customers Were Interested In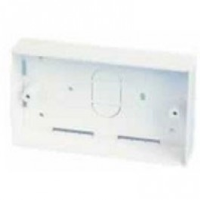 Price (inc. VAT): £1.78
Price (exc. VAT): £1.48