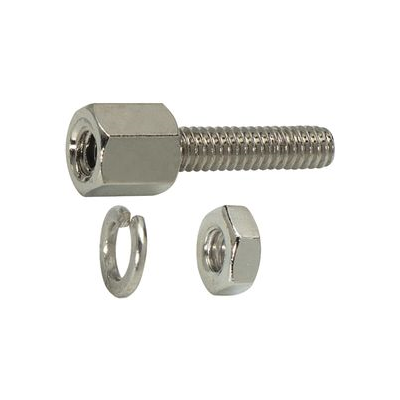 10mm Pair Female UNC 4-40 Screwlock for D Connector
Product Code: 11-1038-0010
10mm Female Screw Locks suitable for fixing sub D connectors to panels, faceplates and general equipment. Supplied in Pairs.
View Specification
£0.35 Exc.VAT
£0.42 Inc.VAT
Availability: Medium Stock
ROYAL MAIL 3-4 DAYS
COURIER 2 -3 DAYS
COURIER NEXT DAY
£4.99 + VAT (WEIGHT APPLICABLE)
£7.99 + VAT
£9.99 + VAT
A Female UNC 4-40 Screwlock for use with Sub-D connectors. The screwlock has an 10mm length and a thread size is 4-40 UNC. Product has a 6mm hex shaped threaded (UNC4-40) head and is available in various thread lengths to suit various applications.
Kit comes complete with 2 x hex screws, 2 x nuts, 2 x flat washers, 2 x split washers
Type: Screwlock
Thread Size: UNC 4-40
Connector Type: D Connector
Screwlock Gender: Female
For Use With: D Connector
Finish: Nickel
Screw Length: 10mm
Technical Information
SKU: 11-1038-0010