BT Extension Lead, White.
A BT extension cord, with 6 wires connected. With a BT socket to BT plug, available in many lengths.
The flat cable design allows for the cable to be trailed along skirting boards or under carpets easily. Ideal for extending an existing 6 wire (6P6C) BT Extension. Also backward compatible with a standard 4 wire household telephone.
Connector A: 6 Wire BT Male Plug
Connector B: 6 Wire BT Female Socket
Cabel Type: Flat 6 Core Cable
Colour: White
6 wired connected
Bakcwards compatible to 4 wire connections.
Please note: We can manufacture to your custom length requirements please contact our sales team on sales@euronetwork.co.uk or call 01908 371909 with your cable requirements.
Other Customers Were Interested In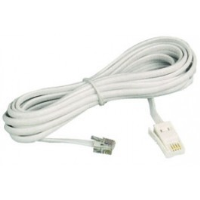 Price (inc. VAT): £1.96
Price (exc. VAT): £1.63