Schuko European To UK Converter Plug. Black 13 Amp (SCP3)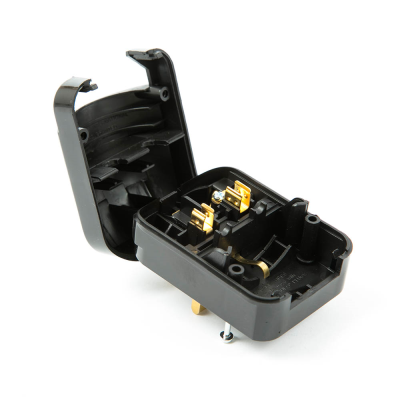 Schuko European To UK Converter Plug. Black 13 Amp (SCP3)
Code : 19-1032-013-B
Weight : 0.08 Kg
Converter Plug Type : SCP3
Bulk Quantity Discounts
EACH

10

+

250

+

£

1.68

£

1.49

£

1.34
Description
Schuko adapter plug used to convert a European 2 pin plug into a 3 pin UK plug, ideal for imported European electrical products that require a UK plug which is BSI approved and RoHS compliant.
Schuko (SCP3) plug converter which can be used for applications which require a higher voltage earthed euro plug to convert to UK 3 pin plug. The Euro UK convertor plug will convert both straight and right-angled 2 pin Schuko's to UK.
Voltage: 240V 50Hz
Current rating: 13A
Load: 3000W (max.)
Fuse: 13A Fused BSI362
Material: Thermoplastic PP. Cadmium Free
Weight: 60g (typical)
Colours: Black
Screw: Standard

Standards:

The product is approved to BS5733, BS1363 plug / socket features and BS1362 fuse link. Approved by BSI. Product complies with current RoHS standards.
If you have any questions in regards to European to UK Converter Plugs or plug adapters in general, please email us via our contact page or by phone on 01908371909
Other Customers Were Interested In