Single Gang Twin RCA Coupler (RW) Wall Plate. Plug and Play
Single Gang Twin RCA Coupler (RW) Wall Plate. Plug and Play
Code : 50-3077
Weight : 0.08 Kg
Bulk Quantity Discounts
EACH

5

+

10

+

£

3.15

£

2.90

£

2.69
Description
A simple plug n play coupler wall plate with 2 x RCA (Left / Right) Connections. No soldering required, plug your RCA cables and leads into the front and rear of the faceplate outlet.
This 2 x RCA left and right stereo audio wall plate outlet is a simple plug n play coupler installation wall plate which is ideal for your left and right sound connections . The Red and White faceplate outlet has two female sockets on the front of the wall outlet and two coupler connections on the rear. Simply plug your male RCA cable or lead into the front and rear of the wall plate to connect your audio visual devices, no soldering required!
Our 2 x RCA coupler faceplate is ideal for installing in home, office or business locations where you are looking to connect your audio device such as a LCD, TV or plasma screen to another device such as Blu-Ray, DVD, Xbox, Wii or Playstation gaming console or satellite receiver.
Front Wall Plate Connections:
1 x Red female coupler
1 x White female coupler

Rear Wall Plate Connections:
1 x Red coupler connection
1 x White coupler connection

Faceplate attributes:
Available in White or Black wall plate colour.
Fits standard back box.
Assembled on site in the UK.
Screws Supplied86mm x 86mm

Euronetwork manufacture and assemble all our wall plates on site in the UK, so if you cannot find the combination you require please email us at sales@euronetwork.co.uk with your requirements or contact a member of our sales team on 01908371909.
Other Customers Were Interested In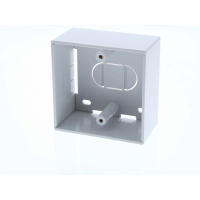 Price (inc. VAT): £1.50
Price (exc. VAT): £1.25