Single Gang Twin Speaker Solder Wall Plate. 1X Red,Black
Single Gang Twin Speaker Solder Wall Plate. 1X Red,Black
Code : 50-3127-W
Weight : 0.08 Kg
Bulk Quantity Discounts
EACH

5

+

10

+

£

3.21

£

2.96

£

2.75
Description
High quality audio visual speaker faceplate with a red and black gold plated connections. Solder tags on the rear and female sockets on the front of the speaker wall plate.
A single gang speaker plate with 2 x gold plated connectors with solder tags on the rear of the faceplate with female sockets on the front. This is an excellent AV wall plate that can wired directly to your sound or music system and connect to your audio device via the 2 x speaker faceplate.
Wall Plate Attributes:
Single Gang: 86mm x 86mm
Colour: White
Screws Supplied

Front Speaker Wall plate Connections:
Gold Plated Female Sockets.

Rear Speaker Wall plate Connections:
Euronetwork speaker wall plates are compatible with standard single gang electrical and double gang back boxes. It is ideal for a surround sound system install that enables you the speaker cables route the cable into the wall to hide those cables for a neat and tide install.
Euronetwork manufacture and assemble various sound system speaker plates and euro modules from twin speaker faceplates, 4 x speaker outlets, 10 and 14 x speaker outlets with sub woofer connections, speak on connector wall plates and terminal speaker outlets.
Other Customers Were Interested In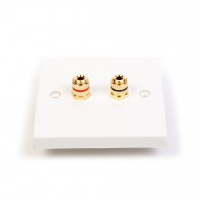 Price (inc. VAT): £4.09
Price (exc. VAT): £3.41