White 4 Gang UK Extension Lead
4 gang extension unit with various lengths of trailing cable available. Four UK sockets, 13 Amp 250V.
UK EXTENSION LEAD 4 GANG
Connector Type A: Mains Plug,
UK Connector Type B: UK Mains Socket Jacket
Colour: White
Voltage Rating: 250V
Lead Length: 0.5m, 1m, 2m, 5m, 10m
Approval Category: BS 1363/A
Cable Assembly Type: Mains Cable
Connector Type: UK Mains Plug
Fuse Current: 13A
No. of Outlets: 4
No. of Outputs: 4
No. of Ways: Four
Voltage Rating V AC: 250V
Euronetwork have various styles of UK extension blocks from 1 gang to 6 gang units with various cable lengths attached to rewireable blocks. Our extension units include surge protected, standard extensions and switched units. These extension blocks are ideal for adding extra UK socket connections for your electrical products such as white goods, games consoles, christmas lights and TV's.
Other Customers Were Interested In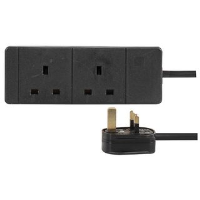 Price (inc. VAT): £4.39
Price (exc. VAT): £3.66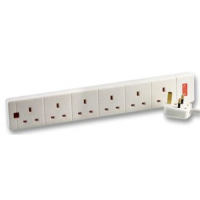 Price (inc. VAT): £5.39
Price (exc. VAT): £4.49