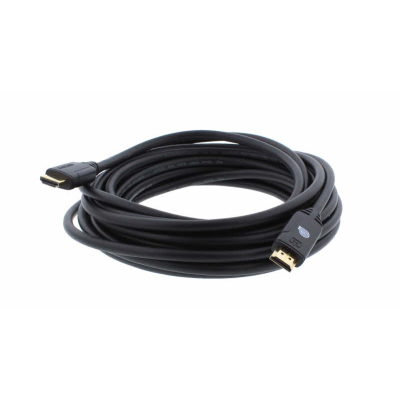 Active 4K Extra Long HDMI Cable.
Product Code: 21-4001-075
Signal boosted 7.5 Metre 4K HDMI 2.0v cable with High-Speed Ethernet, 18Gbs of bandwidth @ 60Hz.
View Specification
£26.99 Exc.VAT
£32.39 Inc.VAT
Availability: Medium Stock
ROYAL MAIL 3-4 DAYS
COURIER 2 -3 DAYS
COURIER NEXT DAY
£4.99 + VAT (WEIGHT APPLICABLE)
£7.99 + VAT
£9.99 + VAT
Looking for that cinematic experience? Want the very best in gaming experience? Don't be fooled by cheap imitations of 4K HDMi cables. Check your cables can achieve the very best in UHD capabilities, in order to do so the specification required is 18.2 Gbps @ 60Hz, 4.4.4, HDR
4K leads are ideal for the latest technology in gaming with Xbox One and PS4 consoles. Ideal for use with the latest cable or digital set-top boxes, Blu-Ray players, TV's, plasmas and LCD's.
Features:
7.5 Metre Active HDMI Cable
HDMI 2.0v, HDR
4096*2160p, 18Gbs, 60Hz
HDMI Ethernet Channel, Audio Return Channel,
Blue Ray, 3D support
Chroma YCbCr 4:4:4
DTS-HD Master Audio Support
Dolby Digital Plus Support
Dolby TrueHD Support
Dolby Digital & DTS Support
HDMI 2.0v, HDR
4096*2160p
18Gbs, 60Hz
Chroma YCbCr 4:4:4, Support for YUV colour space, Max color depth bit/px - 48
HDMI Ethernet Channel, Audio Return Channel, CEC Support Functionality
Blue Ray, 3D support
Chipset built-in
DTS-HD Master Audio Support
Dolby Digital Plus Support, Dolby TrueHD Support, Dolby Digital & DTS Support
Audio up to 8 channels uncompressed
IEC 61966-2-4xvYCC Colour Space Support
Automatic Lip-sync Support
CEA-861B InfoFrames
Technical Information
SKU: 21-4001-075
Length of Cable: 7.5M