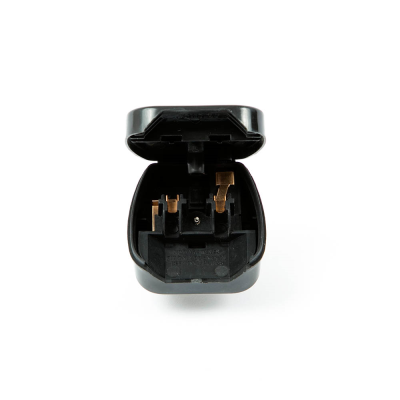 European to UK Adapter Plug. Black 5 Amp. PC8338
Product Code: 19-1091-005-B
PC8338 Black 5 amp EU to UK plug adapter. Approved PowerConnections converter plug.
View Specification
£1.12 ex Vat
£1.34Inc.VAT
| Qty | Web Price |
| --- | --- |
| 1 | £1.12 |
| 250 | £0.98 |
Availability: 2354 Multiple products
ROYAL MAIL 3-4 DAYS £4.99 + VAT (WEIGHT APPLICABLE)
COURIER 2 -3 DAYS £7.99 + VAT
COURIER NEXT DAY £9.99 + VAT
VDE European UK converter plug which adapts a flat 2 pin Euro CEE7 to a 3 pin UK plug. Presented with a hinged lid, secured with a screw, ideal for manufacturers who have European electrical products and are required to convert certain models for the UK market
Features:
PC8338 Converter Plug
Approved PowerConnections converter plug.
Voltage: 250V, Load: 2000W (max.), 45g
Black 5 amp
Product complies with current RoHS standards.
View a 'Converter Plug How to Video Guide' by clicking into the Downloads tab.
European located enquiries and orders please email sales@euronetwork.co.uk for a quote.
Fitting Instructions

1. Insert the VDE Plug into the PC 8338 Conversion plug.
2. Close lid
3. Tighten retaining screw
4. Now the PC 8338 is ready for use

NOTE: If the cover does not close fully, this may mean that the VDE Plug has not been
correctly fitted, check, and rectify before use.
Technical Information
SKU: 19-1091-005-B
Colour: Black
Converter Amp Rating: 5 AMP
Plug Colour: Black
Converter Plug Type: PC8338