Issues with your audio on conference calls?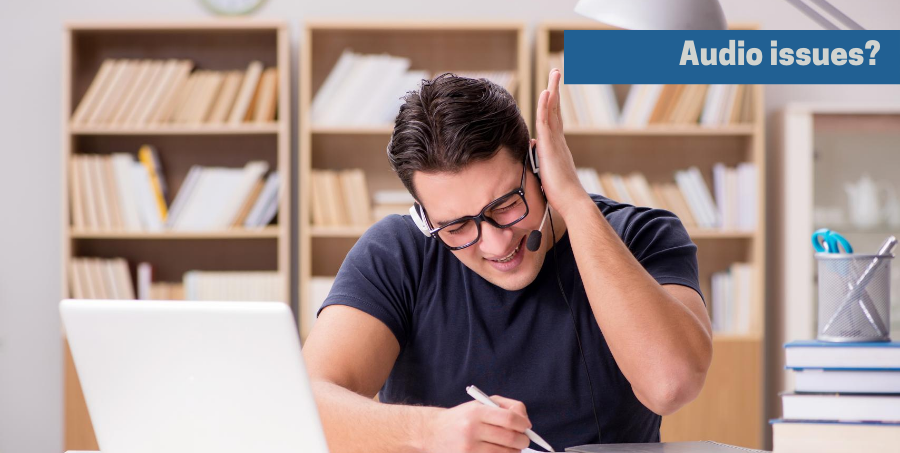 It's fair to say that for a significant proportion of people required to work from home during the COVID-19 outbreak, the prospect may initially have seemed enticing. But a crucial tool in being able to continue with working from home today is the internet – and not many of us have the technical IT know-how needed to sort out glitches when they arise. If they strike just as you're about to embark on a carefully planned conference call with colleagues, it can present a real problem.
Even so, there are some precautions you can take to keep your conference call connections alive and well, free from extraneous noise (both ambient and equipment-based) and unbroken - without having to install an IT engineer in your spare room.
The non-technical aspects are easiest to deal with. Start by being aware of the setting you'll be using to make your video conference call. If it's warm and you have a window open, close it before the meeting starts to muffle external traffic rumble or the loud clatter of a passing helicopter in the middle of the conference.
Visually, you'll appear clearer to your fellow attendees if you face a window so that natural light falls softly on your face (if this isn't available, a desk lamp with a shade will be suitable).
You'll almost certainly be aware of your company's favourite video call service (e.g. Zoom, Skype or Google Hangouts). You can simply download the respective app on your PC if that's what you're using, although if your employer has provided you with a laptop, it may already be on that device.
Your connections will be less strained and at less risk of crackling or dropping if you make sure that other members of your household know of the timing of your conference call. They can then refrain from streaming video games or Disney+ thereby guzzling the bandwidth you need for a glitch-free experience.
We'd strongly recommend that you use a wired internet connection during your conference call. Wi-Fi can be unreliable for video conferencing and direct connections via a trusty ethernet cable, or an HDMI cable will spare you inconvenient or meeting-ending interruptions. Even if you're using a laptop without an ethernet port, you can easily get hold of a low-cost USB to Ethernet or Thunderbolt to Ethernet adapter.
HDMI cables are especially useful for today's conference calls as they seriously improve the quality of both your viewing and audio experience. High-speed HDMI cables with ethernet are undoubtedly amongst the best possible means of connecting today. They drastically reduce the infuriating issue of freezing as they transfer data at superfast speeds.
A final tip that sounds trifling but can make all the difference: don't leave it until the last minute to log in. If there is a problem with your connection or if the software has been corrupted in some way, it's better to discover the issue well before the conference begins. Do a few test logins to check it's all running smoothly (Zoom comes with an integral test feature that's well worth checking before "kick-off" is due).
You'll find all the high-quality Ethernet leads and HDMI cables here at EuroNetwork that you need to keep your video conferencing calls alive and well whenever you need them. You can rest assured that they're available at the fairest prices.