See the world from the comfort of your home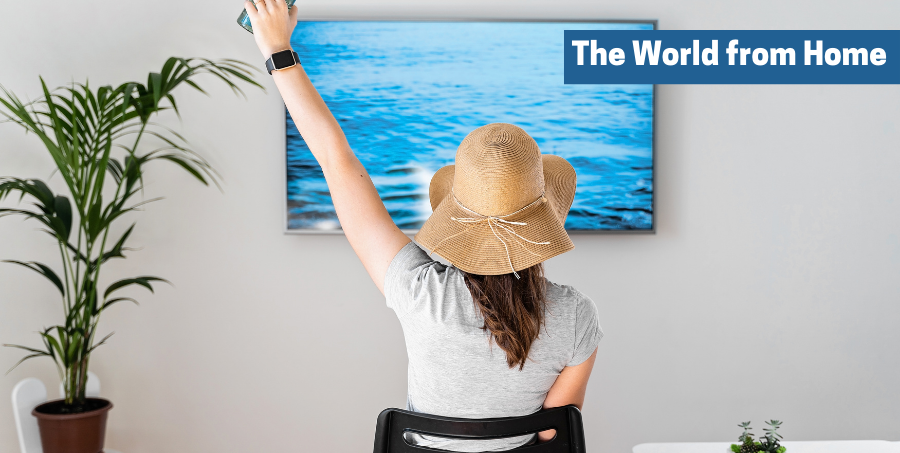 The COVID-19 pandemic has not only upended millions of people's working lives, but it has also put paid to those other so-called 'non-essential' dimensions of life – such as comedy nights at the local, pub quizzes, holidays abroad, and attending much-anticipated big-name social events such as concerts. Or has it?
There can be little doubt that what we experience as passing moments of fun and enjoyment subsequently take on a life of their own on a more enduring basis in our memories – such as magical moments on holiday with the kids, the thrill of seeing a stellar concert, or the laughter and camaraderie of friends at our favourite pub. They turn into the experiences we treasure and enrich our lives.
Thanks to amazing technological innovations, despite the global health crisis, we don't have to put all of these precious social experiences on ice. Yes, holidays may have to be cancelled or postponed for the time being, but there are other events we can still enjoy, even if it's from our favourite living-room armchair rather than around a table at the local or at the O2 Arena.
Unable to perform in open public spaces, artists of all varieties have been turning to video streaming technologies and social media platforms to reach their followers and bring us live content in our own homes.
For example, Snow Patrol singer Gary Lightbody has been busy writing new songs over the last couple of months. Writing a new song in its entirety has become a new ritual for Saturday evenings. What makes this exercise completely exceptional is that he's not alone – he's co-writing each song with 5,000 fans on Instagram in what he calls the 'Saturday Songwrite'.
Lightbody throws the creativity open, asking fans to suggest chords and contribute melodies, whereupon he performs them and puts them to the vote and follows up with a request for lyrics. Once they're chosen, he's back within the hour with a finished track.
Like a range of other musical artists, he's been making up for not being able to perform in public by putting on online gigs for his fans from home during the lockdown. With the live weekly Songwrite event, he's engaging with them in a particularly lively and creative way.
Other examples of tech-enabled artistic creativity are abounding in the midst of an epidemic of home confinement. Duran Duran star John Taylor, for example, is using Instagram to deliver bass masterclasses to his fans, while professional dancing sensation Oti Mabuse has been delivering high-energy dance lessons using the same social media platform.
In the US, top artists Timbaland and Swizz Beatz are zapping the lockdown blues with regular head-to-head contests of musical virtuosity each week in 'Versuz' battles on Instagram. Jill Scott and Erykah Badu recently attracted no fewer than 700,000 live viewers.
Actors and playwrights have also been getting in on the tech-enabled virtual breakout from lockdown. For example, in a cleverly crafted one-act play by Sir Tom Stoppard (written specially for the pandemic predicament), actors Jenna Coleman, Denise Gough and David Morrissey performed A Separate Peace courtesy of Zoom.
Intriguingly, having presided over this Zoom-enabled experiment in live theatre, the play's producer, Matt Humphrey, thinks that it has longer-term, post-pandemic prospects, bringing live theatre directly into people's homes. Many musical artists will almost certainly agree that their social media lockdown-beating interventions have a similarly long-term future.
The great thing is that thanks to the sumptuous audio technology and visual magic of cutting-edge new home cinema systems, you don't need to squint at these events on a small screen. You can recreate at least some of the magnificence and magic of up-close-and-personal live performances in your own home cinema theatre.