Walthamstow rental scheme achieves gold standard for digital connectivity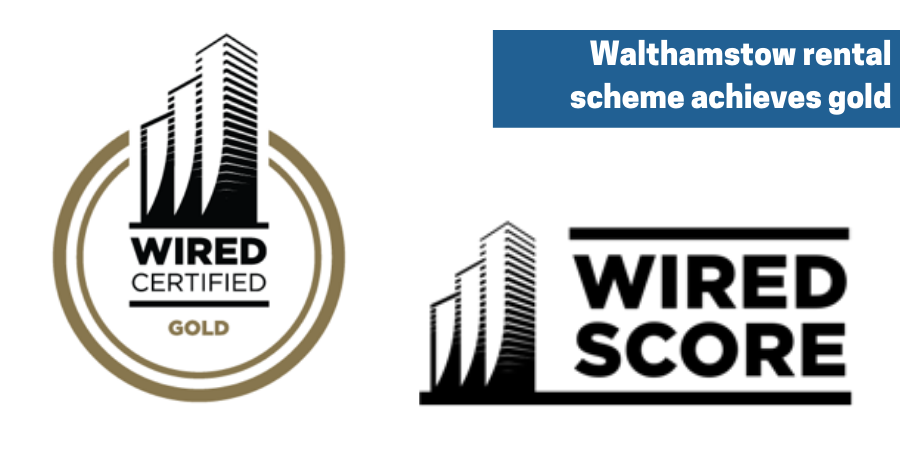 The leading real assets management firm LGIM Real Assets (a subsidiary of Legal & General) has revealed that its new 479-home Build-to-Rent development in Walthamstow, Blackhorse Mills, has become the first residential project to be awarded a coveted Gold certification from WiredScore, the prestigious international real estate rating body.
Founded in May 2019, WiredScore awarded the Blackhorse Mills development its top accolade – the highest ranking it has yet conferred. It is for outstanding digital connectivity in a residential building sufficient to meet the body's Gold certification, which requires best-in-class standards for reliable, instantaneous connectivity and delivering for residents a seamless digital experience.
The development has incorporated the fastest-yet, premium quality digital infrastructure. Wi-Fi throughout the project is delivered by a fibre-internet connection directly into each home in the development (as opposed to the more typical connection to a box located externally in the street, with the remaining to route to the home comprised of slower copper wire). Additionally, all living spaces come with Ethernet ports distributed throughout, so that uninterrupted data can be reliably transferred to each room in the home.
The latter is especially useful for today's data-hungry technology. It is immune to the glitches wireless-only delivery is prey to, such as its oft-reported failure to reach remoter parts of the living space due to unavoidable obstacles like doors, floors and walls.
Wired connections for all devices ensure a minimal risk of interrupted service delivery caused by outages and poor internet connections. Residents of Blackhorse Mills can choose from a range of different connectivity packages, allowing them maximum flexibility for their own specific needs and ensuring they're connected as soon as they move in.
Construction of this beautifully-located waterside development (which overlooks Walthamstow Wetlands) was finalised earlier this year. Residents benefit not only from high-specification living spaces but also spacious communal workspaces, private hire meeting rooms, a gym, a yoga room and a swimming pool.
The project was designed in close collaboration with Walthamstow Council and is intended as a landmark to affordable homes, with 140 such dwellings reserved for key workers.
Expressing his pride at the accolade won by Blackhorse Mills, LGIM Real Assets' Head of Build to Rent, Dan Batterton, said:
"The anticipated continuation of home working beyond the current lockdown has demonstrated the need for residential properties to be equipped with a fast, reliable internet connection. We expect that as the lockdown eases, digital connectivity and dual working-and-living spaces will become a priority for renters, making Blackhorse Mills an ideal base for remote workers."
When WiredScore launched in the UK last May, the then Secretary of State for Digital, Culture, Media and Sport, Jeremy Wright, described the body as furthering the government's aim of ensuring that digital connectivity was considered as "essential as bricks and mortar" when constructing new homes. Such connectivity, he added, constituted the foundation of a modern digital economy.
New residents to developments such as this have a broad range of premium quality Ethernet and HDMI cables to choose from via EuroNetwork. Our products are designed to deliver the best possible internet and audio-visual (AV) quality to connected devices. We also supply a generous assortment of switchers, splitters, extenders and repeaters to distribute AV equipment seamlessly around the home.