The risks with faulty IEC sockets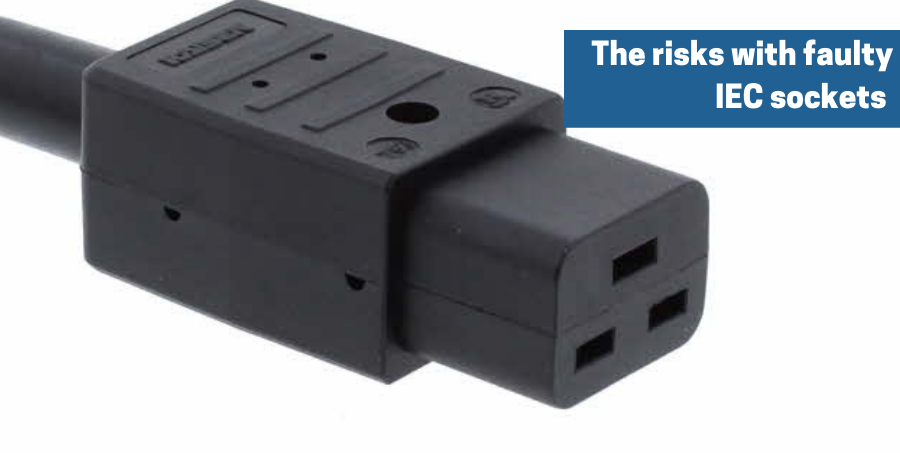 While the more tech-minded will be aware what an IEC socket is, those looking for a replacement power connector for an electrical appliance might benefit from a brief explanatory description.
What are IEC sockets?
The name comes from the International Electrotechnical Commission, an international standards body dealing with electrical technologies. Specifically, all of these appliance connectors conform to the IEC 60320 standard, which stipulates the essential features for non-locking connectors for connecting mains power supply cords to electrical appliances. The standard defines these connectors as being suitable for electrical appliances with a maximum voltage of 250 volts of alternating current and a maximum current of 16 amperes.
Connectors conforming to this standard come in a range of outer, feature-moulded insulating housings and pin types (straight, right angle or left angle casings, and two- or three-pinned configurations with ground pins or feature-polarised configurations). They are all designed to prevent accidental connection with non-compliant appliances or electrical equipment.
These IEC sockets are almost invariably found on appliances or equipment with separate power cables that are inserted into a dedicated power socket on the device, with interconnectors used to join cables.
They come in two subcategories – 60320-1, which are all power supply cables, and 60320-2, which comprises four different sub-types.
IEC socket and plug sets in the first subcategory feature the female part of the connectors on the end of the cable leading from the wall socket, which supplies mains power to a pinned male socket mounted on the device itself. The design prevents the danger of accidental contact between the pins.
The four sub-types comprising IEC 603201-2 connectors are used either to connect cables or as power outlets mounted on the electrical device. The latter can be male or female in configuration.
The risks if these key components develop faults
Like all physical objects, IEC sockets are subject to wear and tear. And because live electricity of up to 240V and 16A is in use, the consequences of damaged sockets can be both destructive and dangerous.
Electrical sockets of this kind are often in daily use from one year to the next with no maintenance, especially in the case of domestic appliances. Here are two tell-tale signs that it's time to replace the connectors.
If the equipment keeps having power failures, the connectors may be worn. They need to be inspected. If the same problem occurs with different mains wall sockets, it's a sign that the connectors need replacing. Any sign of damage to the IEC socket's housing is a reliable indicator that it needs to be replaced without delay.
If the connectors or the wall-plug seem hot, and especially if you detect signs of scorch marks, the wall outlet should be switched off immediately and the connectors replaced before you use the appliance again. Electrical fire is a real and present danger here.
Given the risk of equipment and property damage through electrical fire, replacement IEC sockets must be purchased from reputable manufacturers and suppliers. Euronetwork, which has been manufacturing electrical cables, connectors and wall-plates in the UK since 1989, offers a wide range of sockets fully conforming to IEC safety standards. All products are thoroughly tested on-site before dispatch.