Deciding what you need on your EuroNetwork plug and play AV wall plate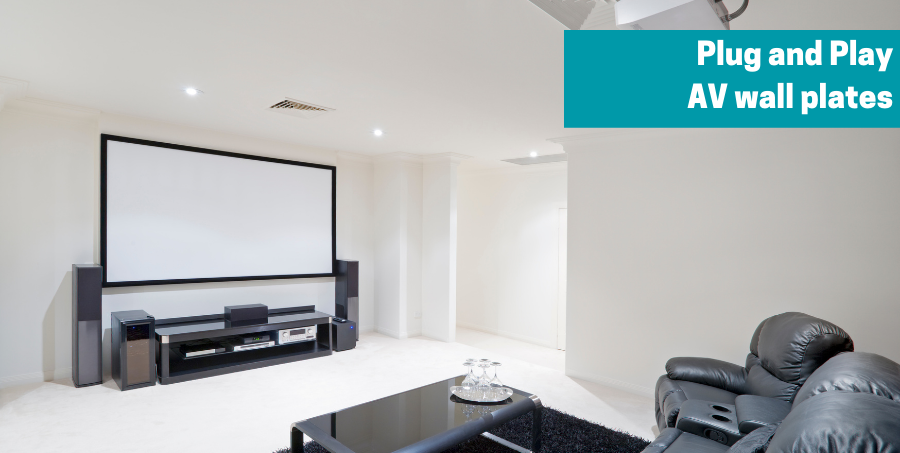 Nobody likes to see cables in a room, even if they're clipped to skirting board. That makes them tidier, it's true, but for most people, it is merely aesthetically tolerable rather than aesthetically pleasing. And if you've invested in high quality (and costly) audio-visual equipment, whether for a domestic or professional/business setting, why mar the appearance of your expensive equipment with unsightly cables snaking across the carpet or along the wall?
Thankfully, at Euronetwork, we have the ideal solution. We can help whether you're a trade customer who needs to neatly install AV equipment like whiteboards or interactive screens for laptops, PCs and projectors in a school, college or university, or you're a home DIY buff who wants a relatively cable-invisible solution for your gaming, TV or home cinema environment. With the rise of teleconferencing, growing numbers of commercial business are also seeking professional-looking AV installations.
We're referring to our range of AV Wall Plates. Whether you need an educational wall plate, a projector wall plate, a TV wall plate or an HDMI wall plate, Euronetwork's faceplate offerings are an excellent remedy for hiding those unsightly cables. We even offer 'plug and play' wall plates for cutting-edge industry connections like HDMI, USB, VGA, DisplayPort and Audio for ultra-fast installation with no on-site soldering.
When you're deciding what features you require on your plug and play AV wall plate, you need to check what kind of AV ports are available on the devices you want to connect. It's also a wise move to think about future-proofing your connections at this stage: for example, even if your current TV has just one HDMI port, the next one you buy may well come with two or three such ports.
So, one of the easiest ways of concealing unprofessional-looking cables strewn over the carpet or dangling down the wall is to route them through wall partitions or cabinets so that they're literally out of sight. No one wants to be distracted by an ugly cable while they're watching a high-end plasma TV or a 4K HDTV. These, and items like classroom whiteboards and projectors, need to be the focal point in the room, not the cables that power them and feed them their data. They look infinitely better (and vastly more professional) when they're mounted on a clean, blank wall.
Principally, they're used to connect an audio-visual transmitter like a Blu-ray player or digital box (such as a game box or a SkyQ box) to an AV receiver (your new LCD, Plasma or 4K HD TV for instance, or your high-def gaming monitor). They allow you to hide the connecting cables beneath a clean, clutter-free false wall, or inside other cable management systems such as a conduit, wherein the wires running from the transmitter to the receiver can be connected via the wall plate.
Given that the number of AV electrical devices in our homes, schools and office spaces is multiplying continually, such is the hyperactive innovation in this field, so, alas, are the number of cables that go with them. Wall pates (or faceplates as they're also known) not only rid the room of unlovely, dust-coated cable spaghetti, they also solve the danger of trip hazards.
Euronetwork's AV wall plates come with female connectors on each end, allowing fast and easy connection of the male plugs on either end so that the devices can be linked together. Purchasing your AV wall plates from Euronetwork also brings the advantage of buying from a supplier with 20 years of experience selling these products. And all of them are assembled and tested on-site before we dispatch them.