Huge growth predicted for the European HVAC cables industry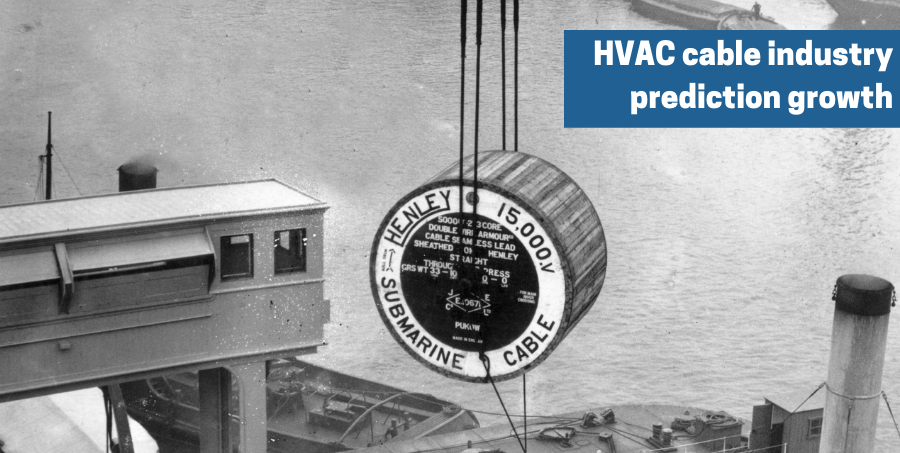 The European market for specialised High Voltage Alternating Current (HVAC) cables is projected to surpass an installation-per-year level of 500km by 2026. The industry is being propelled by the drive to refurbish and replace the conventional electricity network across Europe and integrate inter-regional transmission networks.
The projected development is expected to have a sizeable positive impact on the economy, representing a paradigm shift away from earlier government policies of 'patch and repair' to the full replacement of existing transmission lines to realise new greener energy norms. This will be followed by the full integration of intra- and inter-regional transmission lines. European governments believe that this will assist their sustainable energy sectors.
Advanced new manufacturing technologies are expected to scale back the rising costs of installation and maintenance and accelerate demand in the European HVAC cables market.
HVAC explained
High voltage cables are designed to transmit electricity safely at high voltages and are categorised broadly into three groups – overhead, underground and submarine – at differing voltage ratings. The different categories must withstand different environmental conditions and require different insulation and conductor materials depending on their environmental setting. They are used in synchronised and unsynchronised alternating current transmission systems.
Where they will be used
Demand for submarine HVAC cables is expected to surge, due in large measure to the rising deployment of offshore wind farms. They will also be used to connect a growing number of deep and ultra-deep water, oil and gas platforms and meet the burgeoning demand for island interconnections and inter-country electrical transmission.
In 2019, the 110 kV-220 kV segment of the HVAC market was valued at more than $200m, and this is expected to rise as upward demand for retrofitting and refurbishment will further augment demand for the cables. European governments have set stringent norms to limit greenhouse gas emissions, investing more heavily in high power generation wind farms as a consequence. Again, the knock-on effect is to drive up demand for HVAC cables to transmit the power generated.
New-generation HVAC cables designed for overhead use have been technologically enhanced and re-engineered to render them far less susceptible to the extreme weather damage that previously resulted in erratic and unforeseeable electrical outages. The frequency of these extreme weather conditions has risen just as consumer demand for uninterruptible power supply has strengthened, a convergence that will also drive further uptake of new-gen 220 kV-440 kV cables. A new high voltage system developed in 2018 by Nexus, for example, boasts a gutsy 380 kV cable replete with enamelled wire conductor for added resilience, reliability and minimal power outages.
Another factor contributing to a positive outlook for the European HVAC market is the rise of digital technologies and soaring electricity consumption in fast-proliferating communications-based systems and data centres across the continent.
Meanwhile, closer to home
One overarching point to be drawn from these developments is that good-quality cables make an enormous positive difference, both in terms of performance and economic considerations. HVAC applies to the grand scale, but the same principle applies to the home or office settings. Is it time to look at your electrical cables and their suitability for your ultra-high-definition TVs, home cinema systems and top-drawer audio systems? Are your cables keeping up with the technological sophistication of your devices, in other words? Have they seen better days?
Everything is subject to wear and tear, with inevitable loss of performance and quality. Now may be a good moment to replace and upgrade. Take a leaf out of Europe's cabling project book and browse through EuroNetwork's excellent range of leads and cables, including HDMI leads, ethernet cables and assorted cable assemblies. EuroNetwork was established in 1989 as a cable assembly manufacturer and has since acquired a strong reputation for its reliable, high-quality cable offerings.