Why you need to start caring about Premium Certified HDMI cables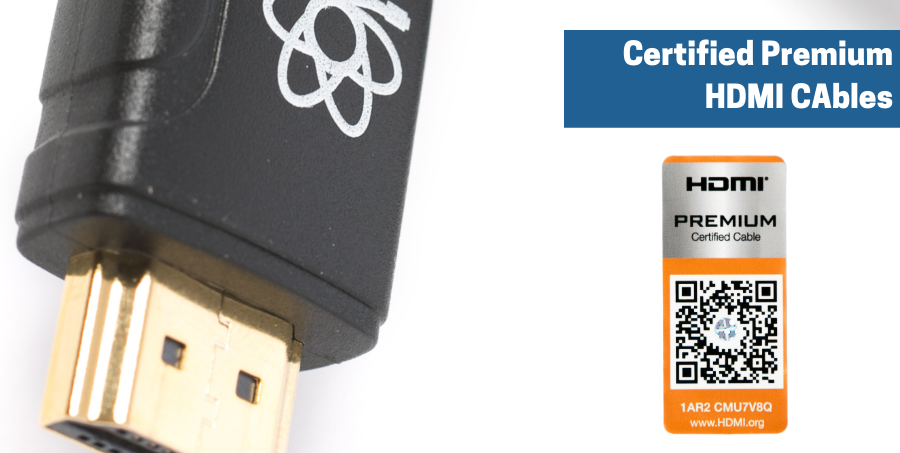 In the age of 4K resolution digital television screens, older, standard HDMI cables that enjoyed massive consumer uptake when they were introduced are, frankly, struggling to keep up with the times. Given that 8K screens are coming, albeit a way off at present, this is only set to worsen, but even new 'budget' TVs today often come with 3849 x 2160 resolutions, quadrupling the pixels available with 1080p TVs. The bottom line is that newer 4K high-res screens require a comparatively huge quantity of data to function at optimal performance levels, seriously taxing the capabilities of earlier standard HDMI cables. This is why the HMDI organisation has introduced a new generation of Premium Certified HDMI cables. Here's why they are worth investing in.
Why HDMI Licensing developed its Premium Cable Certification Program
HDMI is, of course, a tried-and-tested data transfer cable, and remains the best way to link up your uber-powerful gaming consoles, Blu-ray/Ultra HD players and streaming video devices. However, in the new era of super-high bandwidth video transmission, even a High Speed version of the HMDI cable that's capable of data transfer at 18Gbps will start to reach its limit. The result? Infuriating, frustrating, intermittent performance.
4K UHD content delivered at a galloping 60Hz 8-bit 4:4:4, or content bringing a much broader colour gamut such as 4K UHD 30Hz 10-bit 4:4:4, or the full 4K UHD 50Hz 10-bit 4:2:0 capability promised by SKYQ, are all data gluttons, and all are likely to be marred by intermittent or full failure problems if the HDMI cable simply isn't up to scratch in terms of data transfer speeds and capacity.
It should be stated clearly here that Version 2.0 of the High Speed HDMI specification can deliver the necessary data speeds and volumes. The newer certified cables are designed to ensure that consumers can see at a glance that they are purchasing a fully 4K-capable HDMI cable.
How to identify a Premium Certified HDMI cable
HDMI's Premium Cable Certification Program enables consumers to easily identify HDMI cables that have been tested to perform at the requisite high-data specification for 4K without failing.
This is how HDMI Licensing described its certification programme: "The program will help ensure that consumers, who will connect their devices with these cables, can enjoy the full potential of the 4K/UltraHD experience with the latest feature-rich content. This program encompasses additional and enhanced HDMI cable testing as well as a comprehensive anti-counterfeiting label program. This empowers participating HDMI Adopters to design and test their High Speed HDMI Cables for ultra-reliability and high performance typically needed for emerging 4K/UltraHD content."
Certified Premium HDMI Cables use superior materials, significantly enhanced internal twisted wire management (with twisting and soldering running right up to the pin), and additional shielding to reduce electromagnetic interference to a minimum. They are, effectively, a future-proofed iteration of the HDMI cable. You can identify them at a glance by the distinctive 'HDMI PREMIUM' anti-counterfeit label, which shows that they have passed the performance tests required by the Premium HDMI Cable Certification Program. The label also bears a shield-shaped holographic fingerprint and a unique QR code.
EuroNetwork's Premium Certified HMDI cables have all passed HDMI Licensing's certification programme, and customers can therefore be confident that they are true 4K-capable products. Ideal for using to connect AV devices for a true 4K resolution, they are fully tested before dispatch and come in lengths of one, three and five metres.