CompTIA predicts technology revolution driven by AI and 5G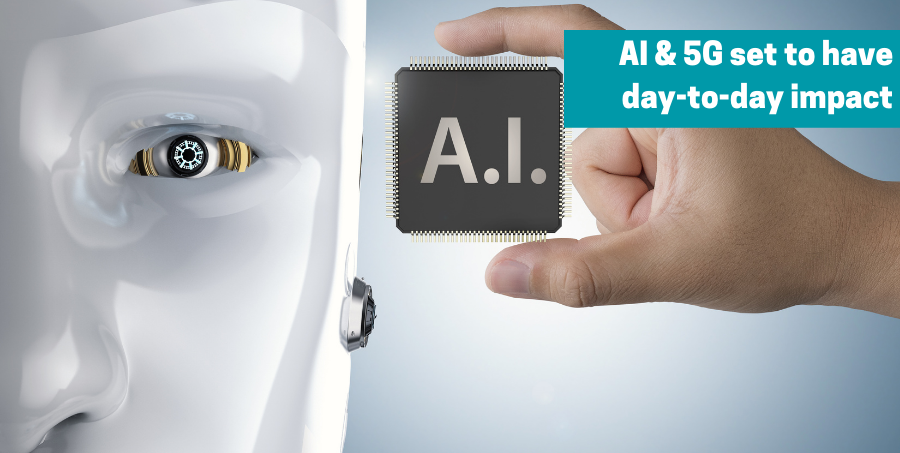 Technological solutions enabled by cutting-edge innovations in artificial intelligence (AI) and 5G wireless networks will have the greatest impact on the day-to-day use of technology in the close future, a leading trade association for the information technology industry has forecast.
The Emerging Technology Community (ETC) of the Computing Technology Industry Association (CompTIA), one of the most prestigious trade associations for the information technology sector in the world, predicts in its latest yearly list of novel technologies that AI and 5G are about to unleash the most immediate new potentials for technology companies to grow and drum up lucrative new revenues.
The ETC's chair Michael Haines (who also heads Microsoft's partner incentive strategy and the company's program design), explained that the consensus on its final ranking this year was the outcome of a "spirited debate and discussion" among community members.
He went on to clarify that the ETC wasn't suggesting that the most promising new developments needed to be embraced instantly by all channel partners and service providers, adding: "But these innovations will have a sweeping impact on the business of technology. Companies need to prepare now for the sea-changes ahead."
This year's list saw a significant rearrangement of last year's rankings. In 2019, the top spot went to the Internet of Things (IoT). This year, it has been toppled to third position, supplanted by AI and 5G, which occupy the first two slots in the 2020 list.
Also commenting was John Rice, a member of the ETC's Executive Council and president of Think Channel, LLC. Rice said that both AI and 5G are poised to have a huge effect in the next few years. Both will steer the technology revolution that is gathering such momentum in the present moment, he continued.
Rice expects AI to have the most impact in the near term: it's already being integrated into virtually all software systems and is playing a crucial role in automation, where it's facilitating the development of much "smarter" systems.
He went on to explain that the community thinks that 5G will be no less potent in its impact but will take a little longer to become discernible. It will deliver the much faster speeds and drastically reduced latency required by all other new-generation information technologies, granting them the solid foundation they require to realise their full potential.
Also moving up the rankings in this year's list are augmented reality (AR) and virtual reality (VR), along with biometrics. Meanwhile, robotics and blockchain dropped by several ranks. Newcomers to the list include newly rising emerging technologies such as quantum computing and natural language processing, while 3D printing and drones – once rising stars – fell out of the 2020 top 10 altogether.
The Top 10 Emerging Technologies for 2020 (alongside 2019 for comparison), according to CompTIA's ETC, are:
| | | |
| --- | --- | --- |
| | 2020 | 2019 |
| 1 | AI | IoT |
| 2 | 5G | AI |
| 3 | IoT | 5G |
| 4 | Serverless Computer Systems | Serverless Computer Systems |
| 5 | Biometrics | Blockchain (Digital Ledger) Technology |
| 6 | AR/VR | Robotics |
| 7 | Blockchain (Digital Ledger) Technology | Biometrics |
| 8 | Robotics | 3D Printing |
| 9 | Natural Language Processing | VR/AR |
| 10 | Quantum Computer Technology | Drones |
These are all technologies that we can expect to arrive both in our workplaces and our homes in the foreseeable future. They represent stupendous developments in technical innovation and ingenuity and are poised to have a transformative effect on our lives, as revolutions inevitably do.
However, to keep abreast of these developments and get the best out of them, we'll need to use the hardware they require – the physical conduits through which they receive the huge quantities of data they require to function properly must be up to the task. This means ensuring that we have in place the requisite high-end, top-quality cables, equipped with the capacity to handle the vast data traffic needed for optimal performance.
The assorted high-end data transfer cables on offer at cable manufacturing experts EuroNetwork meet those requirements amply.