Has COVID-19 changed education forever?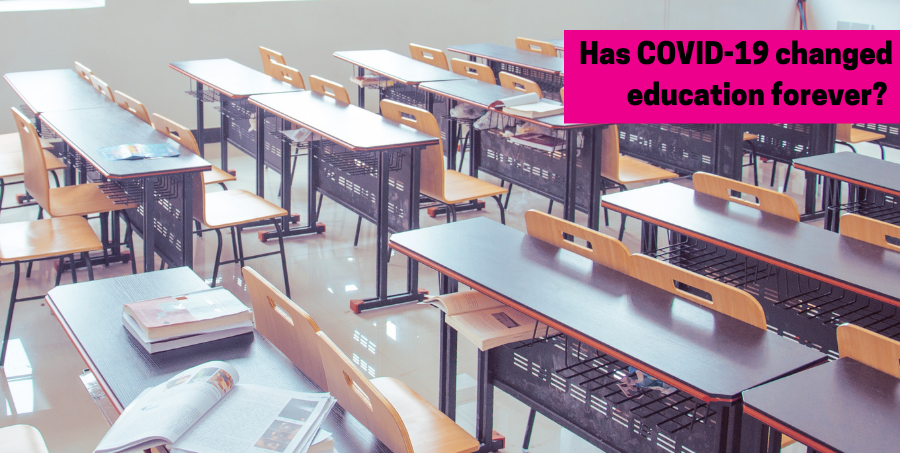 The emerging role of technology and e-learning
The COVID-19 pandemic saw governments around the world, including the UK's, taking the unprecedented step of closing schools, colleges and universities to try to limit the spread of the virus. The Organisation for Economic Co-operation and Development (OECD) estimates that more than a billion children were affected worldwide by these policies.
While this was undoubtedly a perturbing and stressful time for all concerned, one of the more positive upshots has been the development of innovative online teaching methods and other internet-enabled educational resources.
While lending ample proof to the old aphorism that necessity is the mother of invention, educational experts and government ministers are starting to agree on one overarching point: the novel solutions created during the pandemic are too valuable to mothball when it eventually recedes, and should lead to a new age of tech-enabled blended learning techniques for years to come.
Schools around the world began turning to already-existing digital platforms such as Google's G Suite and Microsoft Education to reach out to their newly 'confined to barracks' pupils. Video conferencing apps such as Zoom 'zoomed' in popularity as schools began using it to have digital face-to-face lessons with their students.
Given that another wave of the pandemic may interrupt plans to keep schools and colleges fully open and result in new measures such as rota attendance systems, what can those forced to stay at home again do to keep up with their schooling via e-learning?
Here are a few innovations that will make blended learning a breeze.
Oak National Academy
This government-backed online classroom was launched in a scaled-up version in April 2020 to help manage the school closures caused by the pandemic. It caters to both primary and secondary school-aged children, covering an impressive array of subjects and offering free video lessons, worksheets and even quizzes. Very easy to access and highly engaging for youngsters, it's an innovation that is almost certainly set to become a permanent fixture.
BBC Bitesize
This online resource has been around since 1998 – and it proved invaluable during the government's lockdown of 2020. Simple to access and packed full of free lessons, activities and engaging videos based on the National Curriculum, it also features a smartphone app enabling 14 to 16-year-olds to study flashcards and revision notes via their favourite device – their indispensable mobile phones.
Seneca Learning
Another easy-to-access online educational resource, Seneca is estimated to be used by no fewer than three million students. Seneca's specialism is homework advice, but it has also proved to be a dab hand at gamifying learning and revision to engage young minds with a strong touch of fun. It utilises 'dual coding' – a combination of images (including videos) and text that helps students understand and remember information more efficiently.
Google G Suite for Education
As its name implies, G Suite for Education is a suite of tools that helps users boost opportunities for critical thinking, communication, collaboration and creativity in collaborative learning. Tailored for use in both school and home settings, it's available across the world and is free of charge for all who are eligible to use it (for schools, this essentially means that they're not for profit and are officially recognised, formally accredited educational institutions). Offering 24/7 access and useable on desktop and mobile devices, all of its segments are accessible through a single login.
How to set up multiple home learning devices
If there's more than one of you in your household needing to access online learning, it may be time to link your devices to the internet with Ethernet cables rather than relying solely on Wi-Fi. This is especially true if your household includes avid gamers, because the amount of data that their pastime consumes is huge.
Wi-Fi will struggle to keep up with several home learners and a gamer gobbling up data at the same time. In situations such as this, Ethernet cables are the superior solution – wired connections still deliver the best performance for data-hungry applications.
If you've only got a single Ethernet port, or if you need to run Ethernet cables to several devices, we would suggest that you also invest in Ethernet splitters. These little boxes of tech magic comprise a series of network ports attached to a single cable running from your wall socket. In other words, they allow you to run several connected devices from a single wall port, multiplying your options in an instant.
High-quality Ethernet cables and Ethernet splitters are available from EuroNetwork. As all EuroNetwork cables and plugs are tested before dispatch, you can be confident that you can unbox them, plug them in, and get to work without a hitch.