Know your Schuko rewireable plugs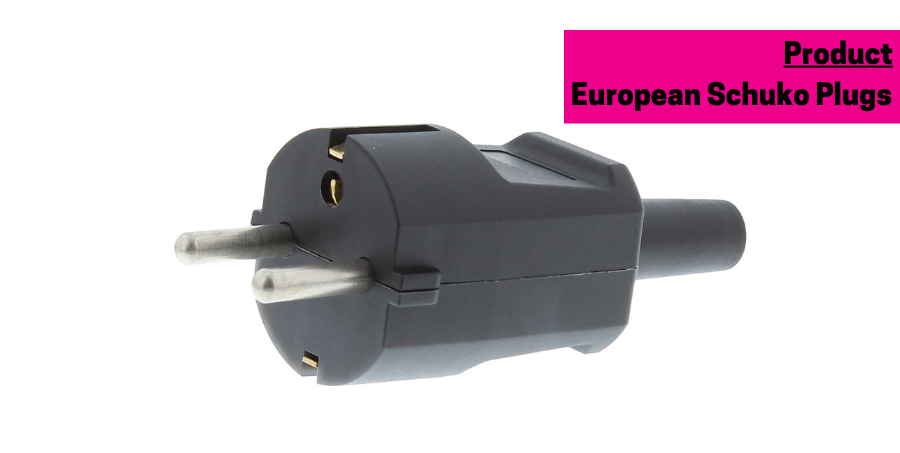 'Schuko' is the standard type of AC plug used across the European mainland continent and is known for its high safety standards. It's a registered trademark deriving from the German word Schutzkontakt, which simply means 'protective contact' or 'safe contact'. It was designed in Germany just after World War One by the Bavarian electrical accessory manufacturer Albert Büttner. He was granted a patent for his design in 1926.
The term 'Schuko' therefore means that the plug and the compatible socket are manufactured with integral protective earth contacts. Schuko is considered an exceptionally safe design for AC plugs when used with compatible Schuko sockets.
They bear a 'CEE' code, which was granted by the International Electrotechnical Commission for Electrical Equipment (IECEE). The CEE number designating the Schuko safety standard on plugs is CEE7/4 250V-16A.
Schuko plugs are round and feature two round pins with a diameter of 4.8mm and a length of 19mm, which is also the distance between them. There are also two flat contact points at the top and bottom sides of the plug. These are indentations in the circumference of the plug and house within them the protective earth or 'ground' points. Both take the form of clips rather than the standard earth pin found on conventional three-pin UK plugs.
Upon insertion into a Schuko socket, the top and bottom contact points depress two spring-loaded earthing clips in the same alignment as the plug, ensuring that the earth connection is always safely engaged before the live pin makes contact with the mains electricity supply. Additional stability is given to the plug by two notches protruding horizontally from each side of the circumference, which slot into identical indentations in the socket.
Schuko plugs are designated as 'unpolarised' because the live and neutral pins are connected randomly (i.e. there is no convention designating whether the live pin should be on the right or left side of the plug). This enables the plug to be inserted into the socket in either direction. Some polarised versions of the plug do exist, but they are in much less common usage.
For UK residents who may be considering relocating some of their electrical products for, say, an extended stay in Europe, the range of rewireable Schuko plugs on offer from EuroNetwork are just the ticket.
If you're taking power-hungry white goods such as washing machines, tumble dryers or dishwashers to mainland Europe, they will need to be rewired to be compatible with European sockets. The same applies to music systems and phone chargers.
These products are hardly optional extras – it makes life much, much easier when you can toss your dirty laundry into a washing machine instead of hauling a heavy sack-load to a laundrette (and back again), or sit back and listen to the sumptuous sound quality of your carefully chosen music system when you want to relax during your European stay.
EuroNetwork's easily rewireable Schuko plugs are available in black or white, and in two configurations, side entry and straight entry. In addition, we supply special three-pin versions if you're going to be based in Switzerland.