How pandemic lockdowns are taking online gaming and esports to the next level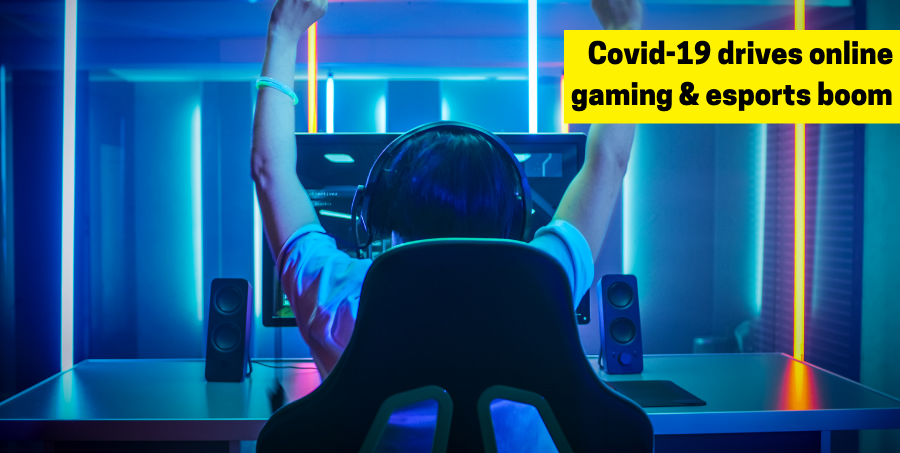 The digital revolution
While it's true that the COVID-19 pandemic has caused considerable economic damage worldwide, one area of economic activity where it appears to have had some unexpectedly positive effects is the online video gaming industry – or, to be more precise, the online gaming and esports industry.
Both have suffered some ill effects, to be sure, not the least of which has been the cancellation of major trade events, such as the eagerly awaited E3 2020. Indie developers, in particular, were hit by this cancellation, as they have conventionally used industry events such as this to mingle face-to-face with potential partners who could provide funding and publishing support.
Esport leagues, however, were less confounded by the pandemic, deftly moving their offerings from live events to remote play, though some were indeed cancelled.
COVID-19 drives a boom in gaming and esports
However, unlike many other areas of economic activity that were severely adversely affected by the pandemic, the video game industry overall has shown itself to be considerably more resilient under lockdown conditions.
Game developers, publishers and operators have benefited from the vast surge in the number of people forced to sit at home waiting the lockdowns out: online gaming has attracted record numbers of players during the international home quarantines, partly to compensate for the loss of face-to-face social companionship.
This is reflected in revenues: forecasts confidently predict that in 2020, the worldwide game market will reach a staggering value of $159bn – four times its highpoint of 2019 ($43bn) and triple the value of the music industry, which saw revenues of $53bn the previous year. The esports subsection of video gaming is expected to expand to more than $1bn in 2020.
New revenue streams and platforms emerge
Fast-paced innovation in the gaming industry is lowering the barrier to entry and enabling new people to play. The industry has seen a transition away from players purchasing physical copies of games towards digital distribution.
The digital transformation, alongside advances in computing power and the accessibility of gaming across devices and platforms, has seamlessly evolved to the most recent development: the introduction of subscription-based gaming, including free-to-play, subscription and freemium services. This new model gives players increasing access to a library of premium-quality games that can be streamed across all devices via cloud-based and mobile platforms, often without the need for expensive hardware.
The transition to streaming is increasing the need for faster and more stable internet connectivity speeds, and telecom service providers are stepping up to enhance infrastructure to meet the demands of this new generation. Both gaming and esports have benefited from ingenious improvements in hardware and bandwidth, aided and abetted by the phenomenal growth of mobile internet.
Now, developers are focused on driving user engagement like never before, partly by genius innovations to make the games more compelling and partly by introducing new monetisation opportunities through additional 'DLC' (downloadable content) innovations. These encompass a raft of enticing enhancements to the gaming experience, from new features to expansion packs to additional tools and characters, plus 'loot boxes' amounting to a lottery of virtual items.
The gamer's guide to AV cables, connectors and plugs
As any committed gamer can testify, games and the powerful consoles that bring them to life are data-hungry entities, making reliance on wireless connections too unreliable for a truly immersive and glitch-free gaming or esports experience. No one wants buffering to strike at the peak of the action.
Essentially, this boils down to one thing. To ensure that the devices and the games get the data they need at the right speed to prevent interruptions to the game, the best option is to rely on cutting-edge, high-data-volume, uber-fast audio-visual (AV) cables, not Wi-Fi.
EuroNetwork, one of Britain's premier producers and vendors of high-quality AV cables, connectors and plugs, offers an extensive range of options. These include our 'active' 4K HDMI cables with integral microchips, designed to 'push' the data along further and faster than standard cables in this format. Fully compatible with Sony PlayStation and Xbox devices, they're a must for serious gamers.
EuroNetwork also supplies premium certified HDMI cables, which are also excellent options for streaming video devices, as they're tested to perform at the requisite high-data specifications for contemporary gaming consoles, including 4K-resolution monitors, without failing.
We also supply all the AV connectors and plugs you'll need to enjoy a seamless, uninterrupted gaming and esports experience.