Back to Zoom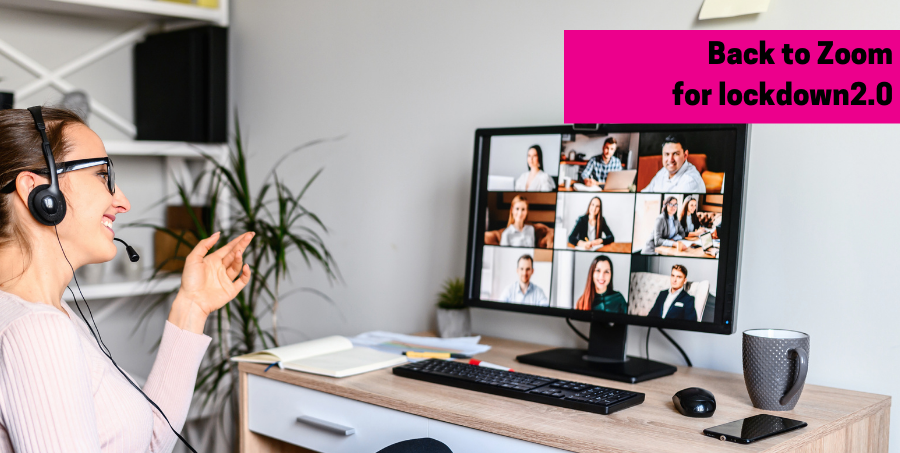 With governments across the world still battling to limit the uncontrolled spread of COVID-19, periodic lockdowns may be here to stay, at least for the foreseeable future – all of which is prompting innovators in business and elsewhere to devise new methods of keeping commerce and work flowing. Today, more than ever, this rests much of the time on enabling teams of people to go on collaborating together on projects, even though lockdowns prevent them from meeting under the same roof.
Thankfully, tech teams have stepped valiantly into the breach to equip their organisations with the digital collaboration tools that may stand between business survival and going under when people are unable to get together physically.
The rise of Microsoft Teams
One of the most popular tools is undoubtedly Microsoft Teams, not least because many organisations are discovering that it's already bundled in with their Microsoft licensing. Basically, if you've got Office 365 in your organisation, then you've also got Microsoft Teams as an in-built resource included in the software's licence.
Why Teams + Zoom = success
There are some limitations to Microsoft Teams though. Yes, it's great for keeping one another abreast of project-critical developments via its conversation threads, chats, online meetings and file sharing capabilities – and it's all done through a single, easy-to-use interface. However, while its messaging system makes for rapid teamwork and helpful conversations, it's deficient on the video conferencing front.
Seeing the people you're talking with makes an enormous difference. You can pick up a puzzled or sceptical facial expression or a tone of voice that would otherwise go undetected, and work quality may suffer as a result. Using video-conferencing app Zoom with Microsoft Teams overcomes that shortfall at a stroke, allowing otherwise scattered teams – freelancers, employees, consultants, external stakeholders, partners and customers alike – to grapple with the issues face to face ('virtually', at least). It's an excellent enhancement for Microsoft Teams as a result.
Zoom's added functionality
Zoom allows participants to feel as though they're in the room together, even when they're sitting at home beside the dining table or in their favourite armchair.
Everyone needed for a meeting can attend a Zoom video conference: up to 49 participants can be seen at any one event, and as many as 1,000 can watch the proceedings live. It also allows up to 80 participants to take part on an audio-only basis, but you'll need to add any external attendees as guests before the meeting opens (they can attend anonymously if you don't do this).
Zoom features screen sharing (including smartphone screens) and a co-annotation feature allowing participants to jointly annotate their shared screens with pens and highlighters – just as they would if they were sitting around the same table together.
The Microsoft Teams/Zoom linkage allows webcasting through social media platforms (Facebook Live, YouTube), or you can use your organisation's own system if you prefer.
How difficult is it to link Teams to Zoom?
As for the 'how-tos', it's mercifully simple. The app from the Microsoft Teams App Store allows for Zoom integration so that meetings – whether instant or scheduled – can both allow users to join via bot commands. Any meetings created in Microsoft Teams will appear on the Zoom account, and you can rest assured that all meetings are encrypted end to end.
Not only that, but Zoom also offers virtual waiting rooms, role-based security, password protection, and the option to put attendees on hold. It's like having a virtual receptionist integrated into the system.
Because this collaboration is gaining traction so rapidly, new streamlining features are in the pipeline and are set to appear soon. These include a new Zoom Tab that users can simply click on to begin, schedule or view any Zoom meetings of interest to the team, and a new Zoom app that 'lives' inside the Microsoft Teams interface and allows visibility of all meetings set up by a user.
As things stand, Zoom links seamlessly with the Microsoft Teams ecosystem, permitting Active Directory unified login and OneDrive content. What's not to like?
A closing tip: use Ethernet cables for added reliability
One thing that we would suggest as a valuable safeguard is the humble Ethernet cable. Relying on wireless-only transmission for important teleconferences can be unstable. No one wants proceedings to be hampered by tedious buffering or even loss of connectivity. Good-quality Ethernet cables supplied by EuroNetwork provide fast, reliable signal delivery: the data is safely and smoothly conveyed, obstacle-free, through the cable, so that no participant will disappear or become inaudible at a crucial moment.