Apple's first ARM Mac may be here sooner than expected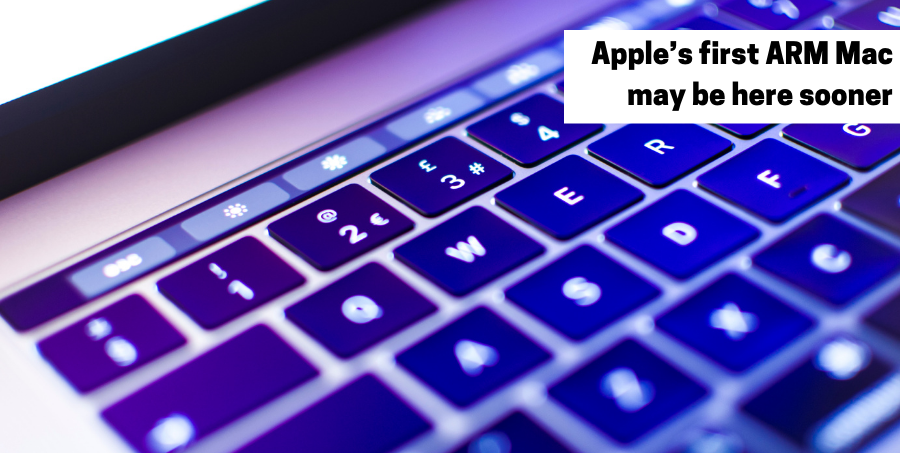 Keen Apple watchers will be aware that CEO Tim Cook took to the company's Worldwide Development Conference (WWDC) stage floor in June 2020 to announce a historic move toward using its own ARM-powered silicon in future Macs. Now, we're beginning to see what models will be included in this shift.
Back in July, uber-reliable Apple analyst Ming-Chi Kuo let it be known that the new silicon is to be used in the forthcoming MacBook Air, plus all MacBook Pros with screen sizes of 13.3, 14 and 16 inches.
Rumours about the shift had been in the air for months before Cook let the cat out of the bag officially at the June WWDC, but the company will now definitely be moving away from the Intel chips it relied on for more than a decade.
Shortly after Cook's announcement in June, Kuo predicted (and he's usually presciently accurate) that a new ARM-based 13.3-inch MacBook Pro will enter mass production by Q4 2020. The following month, he revealed that he believes that it may also be accompanied by an ARM-based MacBook Air. He thinks that the latter is likely to start shipping by the end of 2020 or during Q1 2021.
Following that, Kuo predicts, we can expect to see new 14-inch and 16-inch MacBook Pros built with the new ARM silicon. Earlier, he had forecast that these MacBooks will also come with new Mini-LED displays, delivering superior contrast to the current line-up's LCD displays.
What about iMacs though? According to MacRumors, Kuo makes no mention of ARM-based versions of these machines in his July report. What we do know, however, is that Apple's official statement confirms that it expects the move over to the new chips to take place over the coming two years.
There are going to be significant ripples issuing from this little bombshell that go well beyond Apple. An immediate effect will be renewed pressure on Microsoft to speed up its 'Windows 10 on ARM' project so that its partners will be able to remain in touch with Apple.
Google might well be feeling a cold shiver coursing down its spine. The new Apple development poses a danger to its Chromebook project. Some will say that this won't be the case because Chromebooks aren't laptops. However, many don't buy the 'apples and oranges' argument. The changes in the background OS decisions may mean that there are different types of computer called 'Chromebooks' and 'laptops', but this doesn't stop both of them being computers.
TechRadar journalist Kim Key has looked into this Chromebook/laptop distinction more deeply. Yes, there are some differences: Windows laptops come with many microprocessors made by Intel and AMD, while Chromebooks have lower-performing, less well-known microprocessors more suited to the slimmer demands of the Chrome operating system.
However, both will be affected by Apple's ARM-based processor. For one thing, it will definitely offer greater power than Intel laptops are capable of. And because it has lower power and thermal demands, it's going to significantly outperform Chromebook's lesser-known processors.
As Key puts it: "In other words, the best of both worlds, all in one Mac."
The ARM-based chips will deliver better performance on less power, and there will be no need for a separate T2 security processor. Instead, Apple can build all the security features it needs into the main processor die.
Essentially, the transition to AR has opened a huge window of innovative software and hardware development to Apple over the coming few years. The competition just can't ignore this. The benchmark for the first MacOS on ARM machines is very impressive.