First impressions of the Surface Duo – Microsoft's dual-screen Android phone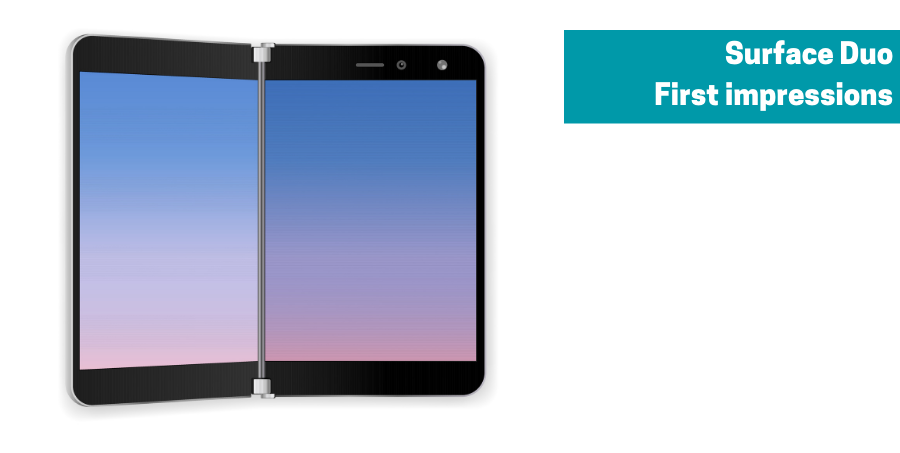 It's been eagerly awaited by many for a long while and finally it's here: Microsoft's much-anticipated and, it has to be said, visually ravishing Surface Duo smartphone is now available.
Here's our whistle-stop review of the device (spoiler alert: it's a mixed bag, combining excellent new features with others that fail to live up to their promise).
So, what do we actually get from a dual-screen Android device that Microsoft bills as a productivity powerhouse rather than a mere phone?
Well, there are certainly things you can do on the Surface Duo that you won't be able to do on other smart handheld devices. Yet it's hard to avoid the impression that great intentions haven't quite overcome software and Android OS limitations.
First, though, some of the guts under the hood: there's a serviceable 128-256GB of onboard storage packed into the phone depending on which model you choose. There's also 6GB of RAM (not particularly generous) and a Qualcomm Snapdragon 855 CPU.
However, the 11MP (ƒ/2.0) camera is more than disappointing (it's pretty poor, frankly), there's no microSD slot, and while it looks and feels lovely (when it's not getting hot, that is), it's awkward to stuff into a front or back pocket when folded, feeling bulky and at risk of falling out (don't run for a bus if you've slipped one in the back of your jeans).
There's no doubt that the hardware has been painstakingly crafted, but the hefty price tag ($1,399/£1,090 for 128GB, $1,499/£1,167 for 256GB) is a potential deal-breaker, putting it higher than Samsung's Galaxy Note 20 Ultra – although, as folding handsets go, Samsung's Z Flip 5G is pricier still, with a starting price of $1,449/£1,130.
The phone's sturdily designed shell is curiously gorgeous: white-painted glass with a matte-white frame and two snazzy mirrored stainless-steel hinges along the fold (the familiar Microsoft logo on the front is also in mirrored stainless steel).
While it feels bulky in the pocket when folded, opened up it's a totally different story: each screen is incredibly slender at just 4.8mm thick. And, to be fair, it's no thicker than the Galaxy Note 20 Ultra when folded. Physically, it's a genuine tactile pleasure to handle and use.
However, because it's so thin, Microsoft couldn't pack two important features into it that you might expect from such a pricey device: there's no wireless charging feature and no NFC coils for tap-and-pay transactions. Also, the slimness comes with another drawback: the phone struggles to stay cool when put to the test (say, during a video call with both screens on) and, in fact, it can get uncomfortably hot very quickly.
The bulky feel when folded comes mainly from its width: it's seven-tenths of an inch wider than Galaxy's Note 20.
Microsoft sees the Duo's two 5.6-inch AMOLED screens as natural windows, and this makes the gap separating the two along the fold curiously unnoticeable (just as a window frame's mullion doesn't spoil your view of what's outside).
However, while it's true that Google has updated its Android OS with provisions for flexible and multiple screens on smart devices, at root it's not able to keep up with what Microsoft intends for its new device. It goes a good way toward that goal, however – opening apps and flicking them to where you want them, even running them side by side, is simplicity itself.
Yet sometimes, the Duo doesn't respond smoothly to touch commands, lagging quite frequently when you attempt to return to the homescreen, for example, while on other occasions, apps and widgets can freeze, remaining unresponsive for a few seconds before 'doing what they're told'. Microsoft seems aware that it will need to develop some fast fixes for these glitches, and in fairness, it intends to do so soon.
The drawbacks are a very underwhelming camera, some software glitches that need rapid fixes, an ageing processor with minimal RAM, no 5G, no wireless charging, and no NFC – but that dual-screen 'natural window' feature has real potential.