Highlights of September's Apple event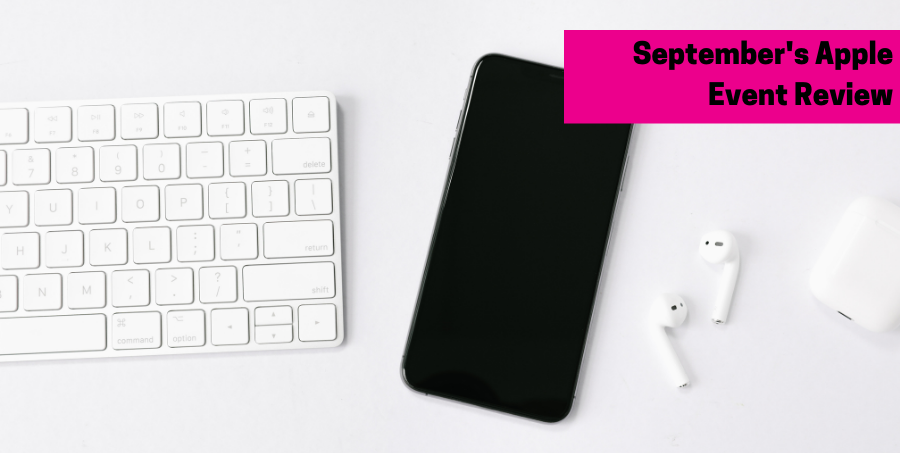 The Apple September Event finally took place on the 15th, ending months of speculation as to what it would bring. It's known to be the occasion for announcing new iPhones, but surprisingly no such confirmations appeared on the day. It did, however, contain some exciting new developments, with upcoming iPads and Apple Watches taking centre stage. Apple watchers are likely to get a new phone announcement in October. As for the September Event, here's a quick breakdown of the highlights.
Apple Watch Series 6 is coming – and it's worth waiting for
CEO Tim Cook lost little time telling Apple watchers that the September Event would be focusing primarily on two hallmark products: the Apple Watch and the iPad. Last year, we were treated to Apple Watch Series 5, the first version to support an always-on display and a nifty inbuilt compass. Other than that, there were few real surprises. It looked like the Series 4 aesthetically and, frankly, didn't possess any must-have new features.
Series 6 will be different. Although aesthetically similar (once more) to its predecessor, it can take blood oxygen readings inside 15 seconds and will record background measurements while you're tucked up in bed.
The new iteration features a brand-new sensor that uses beams of six lights (green, red and infrared) trained on the user's wrist, and measures the amount of each light bouncing back. Sophisticated algorithms then use this data to gauge the colour of the wearer's blood – a reliable indicator of the quantity of oxygen present.
The new smartwatch will be significantly faster than the Series 5, courtesy of a new microchip modelled on the A13 chip inside the iPhone 11. It renders the watch more energy efficient – the always-on display is easier to see in direct sunlight because it's automatically more than twice as bright under such conditions. Of course, the watch also features integral GPS.
As far as the price tag is concerned, expect to part with a cool £379 if you want the GPS-only model, and a slightly more stinging £479 if you want GPS plus cellular technology.
If you're not in the market for that kind of cost, the new Apple Watch SE – a Fitbit rival – might be more to your liking. It will feature Apple's "largest and most advanced watch display" so that you can read it easily at a glance. This will set you back £269 for the basic version, but if you want GPS and cellular tech, the starting price is £319.
The return of the iPad
Even though the most recent iPad Pro debuted in March 2020, new versions are already nearing the end of the pipeline. Expect a new entry-level eighth-generation model, upgraded with a faster A12 Bionic processor to deliver improved performance for graphics and gaming.
It will also work with the same Smart Keyboard accessories as the iPad Pro, and comes in gold, silver and grey finishes with onboard storage of 32GB and 128GB.
Models start at £329 for Wi-Fi only, climbing to £459 for Wi-Fi plus cellular tech.
The iPad Air gets a makeover
This device has undergone a redesign to make it look a lot more like the iPad Pro, replete with sharper edges and straight sides. It comes with a Liquid Retina display (10.9 inches) and True Tone technology for improved resolution (2360 x 1640), plus a gutsy A14 processor (the same one that powers the iPhone 12). The iPad Air is the first iPad to feature a Touch ID fingerprint reader embedded into its side, and other noteworthy features include an improved camera and a USB-C charging port.
Prices start at £570 for the Wi-Fi-only option, shooting to £709 if you also want cellular connectivity. Onboard storage is 64GB or 256GB, and you'll have a choice of five finishes: rose gold, silver, space grey, green and sky blue.
Introducing Apple One
Apple has developed another lucrative revenue stream besides its devices, courtesy of its online services. These include the Apple Music streaming platform, the TV streaming service Apple TV+ and the gaming platform Apple Arcade, not to mention its iCloud storage option.
These will now be available bundled together in the new Apple One plan. The family version of the plan allows multiple users to access all of these services. Prices range from £14.99 for an individual membership to £29.95 a month for a bundle that includes Apple News+, Apple Fitness+ and a whopping 2TB of iCloud storage, shareable between up to six family members.
Apple Fitness+
Apple Fitness+ is a new streaming exercise service. It will offer workouts with professional trainers in a range of categories from yoga to cycling, with new workouts being added every week. While users play the videos on demand from their Apple tablet, phone or connected Apple TV, their workout data will synch to display on their Apple Watch (Series 3 or above), recording key data such as heart rate, calories burnt, distance travelled and pace. The fitness app will be available at £9.99 per month, or as part of the Apple One subscription service.