High-end audio for music lovers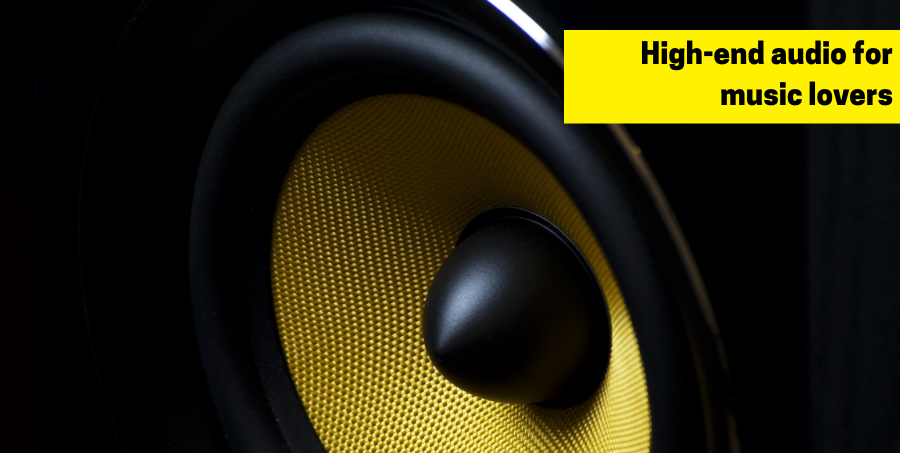 Although the COVID-19 pandemic has made leaving your home an unpleasant business (few of us like wearing those face muzzles while we walk through shopping centres and department stores), it has made it a wonderful time to listen to the music you love. This, in turn, means that it's also a great time to tweak up your audio equipment.
Get rid of bad audio and stop abusing your ears and your sensibilities with it. Start enjoying those sounds as they were intended to be heard.
Here's our quick guide to achieving high-end audio in your home.
Low-cost tweaks...
Speaker positioning
Avoid a cardinal error wherever you can: don't tuck your loudspeakers into the corners of rooms. Corners are bass kidnappers, quarantining those frequencies and deadening the sound that reaches your ears.
If at all possible, the best sound – wide, big and rich – comes when you can place speakers along a wall in a configuration where they form the base of an equilateral triangle with your head as the apex. Also, try to make sure that they're vertically positioned to be aligned with where your ears are. That way, the 'tweeters' inside the box (the small, round drivers) will send you the high notes unimpaired.
Place furniture judiciously
Flat walls and unencumbered corners might look great in an interior decorating magazine, but they're terrible for sound quality. Sound travels in waves and, if it ricochets off a flat wall, it will start cancelling itself out before it reaches you. You'll get curiously dead, flat sound.
Try to position dense furniture (such as a well-stuffed and upholstered chair) in the corner to prevent bass frequencies from being held hostage there, and maybe a bookshelf or other furnishings along the wall opposite the speakers to stop that dulling, straight-back-ricochet effect.
Boost the quality of your music streaming by changing the settings
It's an easy but commonly overlooked step: to get the best sound out of music streaming, you've got to set the apps you're using to the highest-audio-quality setting possible. Just go into the app's settings menu and make sure that you've chosen the highest-quality setting on offer.
For a little expense…
Invest in a digital-to-analogue converter
Get the best possible sound out of your computer by going beyond the soundcard and plugging in a dedicated digital-to-analogue converter (DAC). The sound quality will be noticeably improved in an instant.
If you haven't already got one, get yourself a soundbar
Quite frankly, soundbars are fabulous. A wireless model (such as Roku's) will feature wireless speakers and a subwoofer – and you'll be bathed in warm, rich bass sounds and crisp, clear higher notes.
You'll notice soundtrack music on movies that you'd never paid any heed to before, as well as subtle sound effects (such as background birdsong, faint wind chimes or light rain) and crystal-clear speech, hugely enriching your entertainment experience with stunning, immersive sound.
All you need to do is use an HDMI cable to plug it into your TV's HDMI port – you'll never want to go back to integral TV audio again.
Don't overlook an HDMI ARC
One little point to notice: choose the HDMI port on your TV and soundbar marked 'HDMI ARC'. This indicates an exceptionally high-quality home theatre setting. ARC stands for 'Audio Return Channel'.
If your soundbar is connected to your TV with an HDMI cable via ARC-capable ports, every other device connected to that TV (e.g., Blu-ray players, games consoles, Bluetooth-linked smartphones) will be blessed with that glorious soundbar sound, without needing a separate audio receiver.
When you want to listen in private
There is a huge range of truly excellent headphones and earbuds on offer today, and the ones with Active Noise Cancellation (ANC) functionality are among the best of the best.
If you want to sit back in a comfortable armchair and let the music flow sumptuously into your senses, 'ear can' headphones are best, providing the best reduction of ambient, extraneous sound.
The Sony WH-1000XM4 is especially good, though it's also pricey (the slightly less costly MX3 headphone is a very close runner-up). However, for sound quality alone, the Bose Noise Cancelling Headphones 700 are outstanding – it's just a pity that the battery life is underwhelming.
When it comes to earbuds – a great option if you want to move about while you're listening – Bose comes out on top. This company isn't the world leader in ANC technology for nothing.
You can experience it instantly when you slip a pair into your ears. The Bose QuietComfort 20 is a wonderful wired earbud, and the QuietComfort 30 wireless version is a real wonder (though you'll have to recharge it when the battery runs low, of course).
Cables
To ensure stable internet connections for your streaming services and to get the best and fastest data transfer speeds for high-end audio, take a look at the range of AV wall plates, audio USB, Ethernet and HDMI cables available from Britain's largest producer and vendor of cables, switches and connectors, EuroNetwork.