Cool tech for Christmas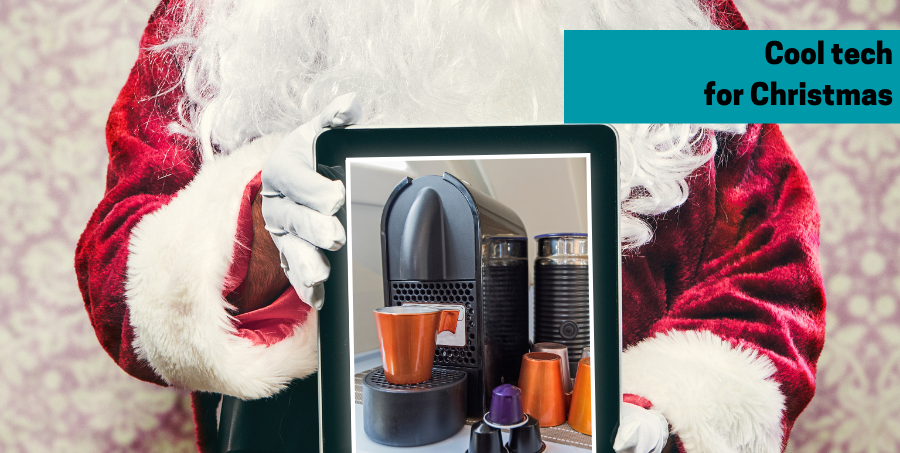 Lockdown may be upon us (again), but Christmas is fast approaching. For the many who have come to regard the Season of Goodwill as, additionally, the Season to Buy Some New Tech Gadgets, here's our review of 10 must-have tech products that won't break the bank (no one wants to face the Season of the Credit Card Headache in January, after all).
BeatsX Flex Bluetooth earbuds (£45.00 from John Lewis)
Beats has earned a well-deserved reputation for delivering some truly brawny audio – and its BeatsX Flex Bluetooth earbuds are no exception, despite their diminutive size (the 'Flex' moniker comes from the Flex-Form cable that drapes securely but comfortably around your neck).
Great for wire-free listening to music, audiobooks or podcasts when you're on the hoof, these modishly designed, yet extraordinarily comfortable, earbuds pack an excellent range of high-note clarity and sonorous bass notes under the hood. Each recharge (via a lightning port) will get you a generous eight hours of listening time.
You can also make hands-free calls, control the volume, and ask Siri any question you want via the Remote Talk feature. If you're running out of juice and you haven't got time for a full recharge, the ingenious 'Fast Fuel' capability will grant you a full two hours of playback time for just five minutes of charging.
All-new Echo (4th generation) (£49.99 from Amazon)
Amazon seems to have decided that the familiar cylindrical design of its Echo 'smart speaker' is a bit 'last year' and has opted for a pleasing near-spherical design for the new 4th-generation iteration. Available in white, blue or black, the new Echo's familiar light ring has been shifted from the top to the base.
Beneath the shell lurks a 3-inch woofer and dual 0.8-inch front-firing tweeters for noticeably improved audio. It will support smart devices in your home, courtesy of its Zigbee hub, and it also includes support for Bluetooth Low Energy (BLE) and Amazon Sidewalk, which stretches the range of low-bandwidth gadgets.
You'll also, of course, have full access to Amazon's infamous voice assistant Alexa, which comes with a new Amazon AZ1 'Neural Edge' machine-learning processor that is designed to improve the assistant's formerly somewhat stiff and limited speech recognition over time.
Campark X30 4K Waterproof Action Camera (£79.97 from Amazon)
This powerful little compact camera is a significant upgrade of Campark's popular 'X' series of action cameras. Courtesy of cutting-edge camera technologies, Campark's X30 boasts impressively improved image quality, thanks to significant advances in the camera's sensors.
You can expect stunning 4K (60fps or 30fps) Ultra HD video quality and magnificently sharp and clear 20MP still images. It also comes with a 2-inch high-sensitivity LCD touchscreen, integral Wi-Fi, adjustable lens angles, and an advanced image stabiliser (EIS Anti-Shake Function) that makes capturing vivid action shots, such as outdoor sports events, a cinch. You can even take underwater shots with it to a depth of 40m (it's seriously waterproof).
Bose SoundLink Micro Wireless Speaker (£89.99 from Amazon)
It may be small (hence the 'micro' moniker), but it's certainly mighty: Bose's highly compact Micro Bluetooth speaker weighs only 230g, is just under 10cm square and just over 3cm thick, but the sound quality issuing forth from this little palm-sized box of audio delights is little short of magnificent.
It's gutsy enough to deliver superb sound even when you're outdoors, courtesy of its passive radiators and custom-mounted transducer. It's also incredibly ruggedly constructed, which makes it immune to a shocking amount of accidental abuse (you can even drop it in the swimming pool on holiday and it will work with a quick dry-off).
Its powerful lithium-ion battery delivers six hours of playtime. Once you've made the fast and easy Bluetooth connection to your smartphone, you can even hear your phone calls through it, all delivered in that uniquely Bose quality audio. You can also pair it with any other Bose-compatible speakers via the free Bose Connect app, allowing you to listen to the same music through each of them, thanks to the Party Mode function.
Canon Zoemini Wireless Compact Photo Printer (£109.99 from John Lewis)
Back in the 1970s, 'Instant Cameras' were very much in vogue, allowing you to snap a shot and print it off on photosensitive card via an aperture in the device in a few moments. In the digital age, this is really something of a tech dinosaur: once the image was printed, that was it. There were no copies, because that kind of onboard storage hadn't been invented yet. However, it's still good to be able to print a snap from your smartphone when you're on the go – and Canon's pocket-sized, rechargeable photo-printer Zoemini is designed to do just that.
Zoemini connects via Bluetooth to your smartphone or tablet and lets you print your pics for friends or family wherever you happen to be. You can augment the quality of the images using the free iOS and Android Canon Mini Print app, which grants you access to a host of special filters.
The 2 x 3-inch printed pics are smudge-proof and water- and tear-resistant, and you can even adorn your belongings with them, thanks to the adhesive backing beneath the peel-off film.
Smart Garden (£90.45 from Click & Grow)
Feeling deprived of living plant life in your little flat or tiny garden? Click & Grow has the solution – in the form of Smart Garden, a box of botanical delights that will make green-fingered indoor garden lovers out of the most zealous townies.
The Smart Garden 3 box is perfect for newbie indoor gardeners, containing everything you need to grow fresh herbs, fruits and vegetables in your own home. The kit includes a tray holding a series of biodegradable plant pods loaded with seeds and the nutrients they need to flourish into plants.
The genius of this little kit lies in features such as automated watering, light and nutrients (the pods contain NASA-inspired smart soil, as well as seeds), virtually guaranteeing a healthy yield of flavour-laden herbs, fruit and veg. The box contains an automated water tank, two lamp extension arms, three complimentary pods containing basil seeds, and an easy-to-read quick start guide to get your indoor mini-allotment up and running.
Ember Temperature Control SMART Mug (£99.99 from Firebox)
Most of us have had the experience of enjoying the first sips of a delicious mug of hot coffee while, say, working at home, only to get distracted and return to an unappealing lukewarm or cold liquid. Now, thanks to Ember's delightfully clever Temperature Control SMART Mug, we can banish that horrid experience permanently.
Available in black or white and made from attractive scratch-resistant ceramic-coated stainless steel, this ingenious smart mug will keep your drink at the temperature you prefer (you can choose this yourself) for up to 80 minutes. You'll know when your preferred temperature has been reached thanks to the smart LED light (you can even get notifications on your smartphone via the free app).
DJI Ryze Tello Drone (£99.00 from DJI Official Store)
In the era of gender stereotypes, this might once have been referred to as a 'boy's toy', but it's really great fun for everyone. An entry-level 'quadcopter' drone, made by the Chinese tech start-up Ryze Technology and leading drone manufacturer DJI, it will fly wherever you want it to within a range of 100m (courtesy of the navigation control you get via the Tello app) for 13 minutes before its battery needs a recharge.
The drone features a front-facing camera that transmits a 720p live video feed of its various sojourns around your garden party or social event, and it can also capture HD video and 5-megapixel stills. Thanks to its range of special moves (such as taking off and landing on your hand), it's got to be one of the best toys around. A real blast of fun.
iVide Sous Vide Precision Cooker VS180 Bundle (£115.83 from Sousvidetools.com)
'Sous vide' (French for 'under vacuum') cooking is a method of 'chefery' designed to produce the most flavoursome and perfectly cooked food by means of 'low temperature long time' (LTLT) preparation in a vacuum (like a sealed plastic pouch or glass jar). iVide's Sous Vide Precision Cooker VS180 Bundle might just be the smartest of its kind available.
The device's state-of-the-art thermal circulator will heat the food you want to prepare to the perfect constant temperature for exactly the required time period, ensuring perfect outcomes every time. All you need to do is select the weight and your preferred level of 'doneness' on your smartphone via the iVide App, and the cooker will do the rest. Just pop the food into the vacuum-sealable bag, which ensures that the food won't oxidise and ruin the nutrients inside it, feed the open end into the machine, and walk away while it works its culinary magic. It will even send you push notifications when its ready.
Nespresso Citiz Espresso Machine by De'Longhi (£144.00 from Curry's)
An appealing fusion of high technology and ravishing retro-modern design, De'Longhi's Nespresso Citiz Espresso Machine isn't simply a feast for the eyes – it also makes a veritable symphony for the tongue. At the popping in of a coffee-filled capsule and the touch of one of two programmable buttons, you'll end up with the most sublime espresso and lungo coffees you've ever tasted.
The machine features optimised heat-up times for the perfect coffee brew, automatic and programmable cup size selection, and automatic shut-off and power-save mode – and it looks glorious to boot.
A concluding tip: all of these devices rely on USB cables for power. Especially if you live in a household where everyone else is powering their devices with a USB cable, you'd be wise to invest in some additions. Thankfully, EuroNetwork stocks over 100 different USB options, including a huge range of the ubiquitous and versatile USB 2.0 cables, so you'll have no difficulty in finding exactly the one you need for your device.
** Prices correct at time of publishing, 11/11/2020