iPhone 12 mini and iPhone 12 Pro Max: get your orders in!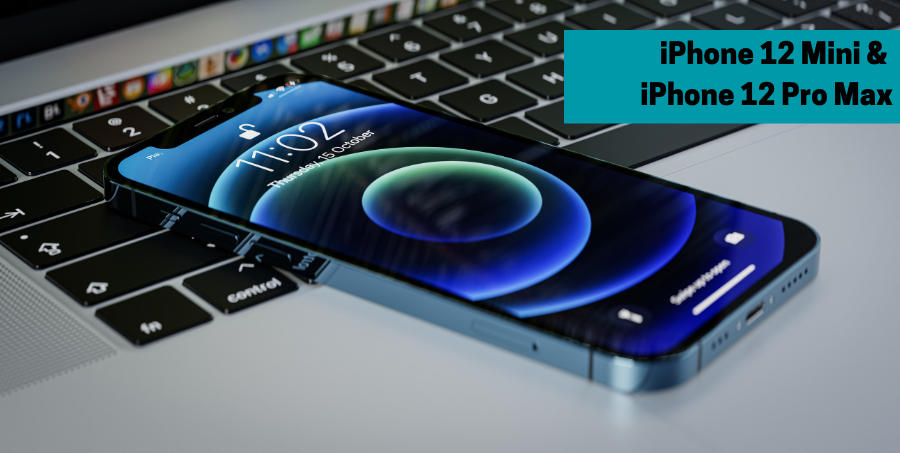 The world, or at least the world of smartphones, might well be divided into two broad camps: those who love the pocket-sized gadget (the more diminutive the better) and those who love generous, expansive screens (the grander the better).
Apple has succeeded, we think, in delighting both camps with its latest offerings, the iPhone 12 mini and the iPhone 12 Pro Max.
Here's what we made of them.
Some common features of the 12 mini and the 12 Pro Max
Both smartphones feature a new Ceramic Shield glass material (made with nano-ceramic crystals) developed by Apple for the front display. It provides a not-to-be-scoffed-at four-fold improvement in shatter resistance. There's also improved water resistance: you might not want to, but you could safely leave the 12 mini and the 12 Pro Max in 20 feet of water for half an hour without damage.
There's a new MagSafe wireless charging system, which snaps easily to the back of the devices thanks to their magnets, removing the need for a Lightning connector.
Both handsets come with Apple's latest mobile operating system, the iOS 14 – a big step up from iOS 13. The widgets are more colourful and informative than those on iOS 13, and you can put your apps into folders (according to the type) courtesy of the new 'App Library' feature. The new 'picture-in-picture' mode lets you watch a video no matter what other app you're also using, and notifications are more compact.
The iPhone 12 mini is identical in its appearance and structure to the grander iPhone 12 Pro Max, which is being released simultaneously – but it's substantially smaller (the latter boasts a display of 6.1 inches compared to the mini's 5.4).
Appearance
iPhone mini
Lovers of the miniature will almost certainly be pleasantly surprised to find that Apple has succeeded in releasing a handset that makes the (formerly) 'diddy' iPhone SE look bulky. The design is crafty: a display of 5.4 inches might sound positively Lilliputian, but when it stretches from edge to edge as it does on the iPhone 12 mini, it looks surprisingly generous – even as it nestles comfortably in the palm of your hand.
It significantly outdoes the 4.7-inch display of the SE without looking bulkier, mainly because the mini's screen (which has been upgraded from LCD to OLED) takes up the space, not the shell (the bezel has been pared back to a minimum). The 12 mini actually manages to be almost three-tenths of an inch shorter than the SE and one-tenth narrower.
Users may find themselves having to spend a little time readjusting to a smaller device, however. Thumbs might bump together a bit to begin with, but it doesn't take long to get used to the new dimensions.
iPhone Pro Max
The screen size is the first thing that hits you when you put down the 12 mini and pick up the 12 Pro Max, because you switch from an elfin 5.4-inch edge-to-edge display to a comparatively hulking 6.1-inch alternative, and this makes for a distinctly more immersive viewing experience. It also dispenses with the round-edged design of earlier iPhones to go for a more flat-edged appearance, slimly trimmed with striking stainless steel sides.
Display
iPhone mini
OLED, it has to be said, makes everything look more abundant and opulent and vivid. The colours are simply magnificent – deeper and truer than LCD. A small quibble is that the refresh rate, at 60Hz, isn't as high as it could be: Google's Pixel 5, OnePlus's Nord and Samsung's Galaxy S20 FE all come with 90-120Hz screens
iPhone Max Pro
The generous 6.1-inch display offers a small resolution upgrade on the iPhone 11 Pro, coming in at 2532 x 1170 pixels and 460 dpi, as against the latter's 2532 x 1170 pixels and 458 dpi. The OLED display is incredibly bright and vivid in its colour palette, however, and it's easy to see the quality even in direct sunlight.
Camera
iPhone 12 mini
It's difficult to begin this section without the word 'Wow'. The optics in the 12 mini's dual camera system are the same as you'll find in the 12 Max Pro: the primary lens yields a generous 12 megapixels with an uber-fast f/1.6 aperture (Apple's fastest yet), while the secondary lens boasts an f/2.4 aperture plus a 120-degree field of vision. The primary lens can capture 4K HDR video up to 60fps, which drops to 30fps if you enable Dolby Vision.
Apple's Night Mode allows you to take beautiful images when lighting conditions are definitely in the 'adverse' category.
iPhone Pro Max
The upgrade to the super-fast f/1.6 aperture makes for a big increase in low-light performance compared to the iPhone 11 – a 27% improvement, to be precise. There's also a new Night Mode for the front (ultra-wide and TrueDepth) cameras, while the Deep Fusion technology on each of the handset's cameras provides much improved detail in difficult light conditions. The one weakness is the 2x optical zoom (the Galaxy Note 20 Ultra, by comparison, has a 5x zoom).
Performance
Both the bantam-sized 12 mini and the larger-scale 12 Max Pro are super-powered smartphones. Both have the same processor, the superb A14 Bionic. The devices don't even break into a sweat when you're gaming, and they're positively relaxed about you swiping through your social media updates or engaging in a little still- or video-photography.
5G
Both the 12 mini and its bigger 12 Max Pro sibling are 5G handsets featuring full support for next-generation networks, and it's worth highlighting that they incorporate millimetre-wave (mmWave) technology, which is designed for maximally efficient use in high-population-density urban settings. Apple has rightly claimed that these phones support more 5G bands than their rivals, making them the most robustly future-proofed handsets currently available.
Battery
5G tends to guzzle a lot of power, but Apple's ingenious Smart Data Mode brings the handset down to LTE to use up less of it and spare the battery from draining rapidly. If it interferes with things such as download speeds, you can easily turn it off.
The battery life on the iPhone 12 mini comes out at about 7½ hours – not terrible, but not particularly great either. The iPhone 12 Max Pro manages a better 8½ hours before a recharge is necessary.