Xbox Series X vs PlayStation 5: are we calling it a draw?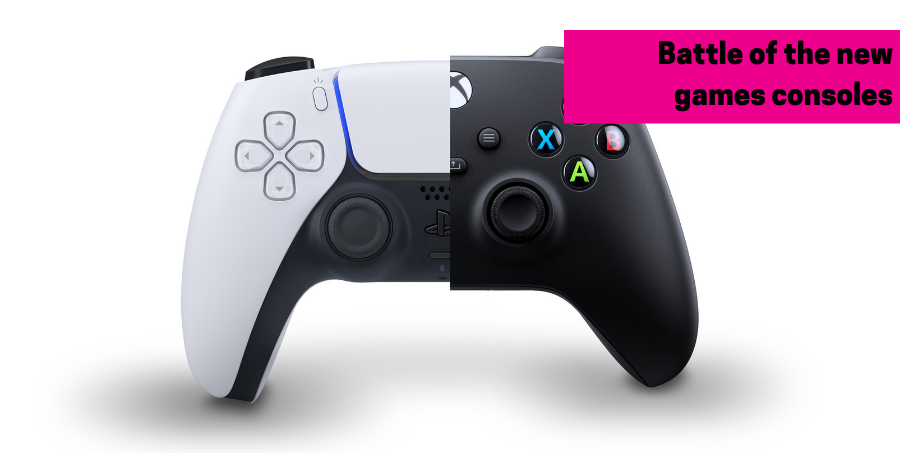 They're evenly priced, but are they evenly matched? Here's our head-to-head comparison of the long-awaited and eagerly anticipated latest-generation game consoles from Microsoft and Sony: the PlayStation 5 (PS5) and the Xbox Series X.
Pricing
The Series X and PS5 consoles are indeed evenly priced, coming in at $499.99/£449.99 each.
For those of you who are reluctant to part with that amount of cash just yet, both have lower-specced digital-only versions at a more modest price, though Microsoft beats Sony here.
Microsoft's Xbox Series X Digital Edition comes in at $299.99/£249.99, while Sony's equivalent, the PS5 Digital Edition, is yours for $399.99/£359.99.
Console exclusives
Xbox's biggest title remains the awesome Halo Infinite, but the launch of the Series X, while stealing a march on the PS5 launch by two days (10th November 2020), suffers from the setback that this title has been delayed and won't be available until 2021. However, while this will be a disappointment for many, you will get Senua's Saga: Hellblade II and, a little later down the road, the additional surprise release of Fable 4, an entirely new entry in the fantasy franchise. Other titles in the Series X pipeline for the near future include high-fidelity racing sim Forza Motorsport 8 and 'zombie survival' game State of Decay 3.
As for the PS5, the launch exclusives are definitely more numerous: Horizon Forbidden West, Spider-Man: Miles Morales and Ratchet & Clank: Rift Apart. The hugely popular Final Fantasy XVI will also shortly be released exclusively on the PS5.
Graphics
Microsoft, it has to be said, has the edge on the PS5 when it comes to graphics specs. The Series X GPU has 12 teraflops of processing power, compared to the PS5's 10.3 teraflops. Teraflops are units measuring how many operations per second the hardware can manage. One teraflop can manage a staggering 1012 operations (that's 10 followed by 12 zeroes) per second. This 1.7 gap is likely to make a noticeable difference in graphics processing between the two consoles.
Games won't necessarily take up the full teraflop capacity of a machine, however, because this depends on how they've been optimised – and many third-party games offer parity between the two titans of gaming, Microsoft and Sony.
Perhaps a more significant factor for performance is that both the Series X and the PS5 come with integral SSDs in place of their previous iterations' HDDs. This means that games load much, much faster on both consoles.
Design
The Series X has gone for quite a dramatic visual departure from its previous generations and takes the form of a handsome, cuboidal, matte-black monolith (reminiscent of the one in Stanley Kubrick's sci-fi classic 2001: A Space Odyssey). The disc drive is at the front of the console, which can be positioned vertically or horizontally, depending on space availability in your entertainment centre.
The PS5 takes the form of a smoothly contoured black rectangle, sandwiched between two elegant, sail-like white fins that nearly meet in a 'V' at the base.
Backwards compatibility
This is quite a selling point for the Series X, not least because it goes some way to offsetting the relative paucity of launch exclusives. Microsoft's new console again has the edge on Sony's here, with all Xbox One games being fully compatible with the Series X, plus a selection of games from the Xbox 360 and the original Xbox. The beauty is that the Series X runs the backwards compatible games distinctly better than the original consoles could manage.
Meanwhile, the PS5 will run every PS4 game, but that's where the backwards compatibility stops. If you're hoping for a nostalgic return to PS3 or earlier games, then you'll be disappointed. However, Sony has never advertised backwards compatibility as a feature, so few will be expecting this anyway.
Cloud gaming
At the time of writing, it's not clear whether the PS5 will include options from Sony's 'PlayStation Now' game-streaming service, which offers hits from the PS2, 3 and 4, but it seems very likely. PlayStation Now also streams on PCs, but not on streaming players, smart TVs or smartphones.
Microsoft's equivalent, Project xCloud, has been in beta mode for what seems like ages, but it finally became fully available to all consumers from 15th September 2020. By subscribing to the $15-a-month Xbox Game Pass Ultimate, players can stream Xbox games directly onto Android smartphones and tablets, bypassing the need for a console altogether. However, if you've got a 4K-ready TV, you'll want the Series X console – the visual definition and action will leave your mouth agape.
Virtual reality
Sony comes out trumps in this department. The PS5 is fully compatible with the excellent PlayStation VR headset via a free adapter. Microsoft, by contrast, has no plans for an equivalent VR headset and appears much less interested in this branch of tech than its Sony rival. However, it's still something of a niche interest and may not sway Microsoft and Sony loyalists either way.
The verdict
At the opening to this comparison, we asked if Sony's and Microsoft's new consoles were evenly matched. Now, we can answer: broadly, yes, though the Xbox Series X has the edge with its beefier specs (notably the GPU power) – but both come with the advantage of SSDs for uber-fast loading.
We'd also suggest that you don't risk spoiling your gaming experience with inconsistent wireless signals. Go for the far more reliable Ethernet cable instead. And if you want to watch the offering in glorious 4K resolution, invest in a HDMI cable to ensure that all the data gets to the display without a hitch.
Additional accessories
EuroNetwork has a fine selection of high-quality HDMI and Ethernet cables that will make your gaming experience not just okay, but outstanding.