Introducing the Sonos Arc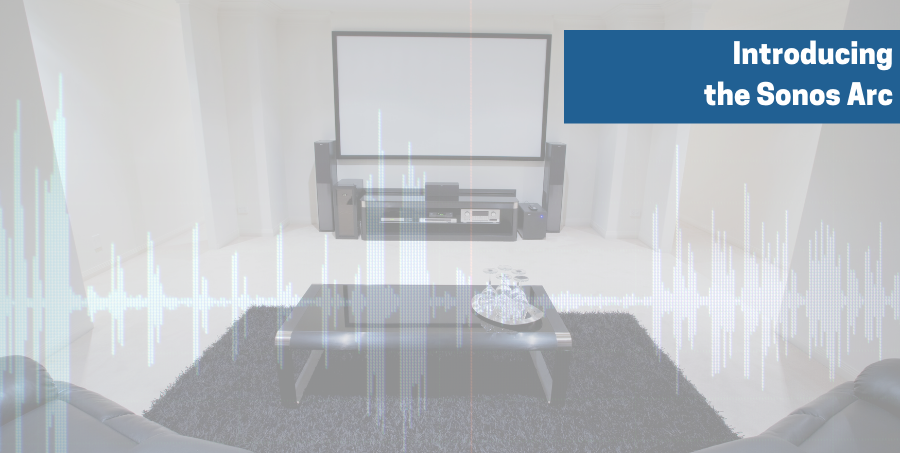 The problem with multi-speaker surround systems
Growing numbers of people are finding that they love high-spec home entertainment – and this is an interest that seems likely to trend vigorously, as cinema theatre chains fold during the extended pandemic of 2020. However, limitations on room size make the prospect of fully loaded sound systems with multiple speakers a tad impractical for many.
Thankfully, if you've decided that you don't want to be climbing over seven or so brawny speakers in your compact living room or home entertainment den, you don't have to fall back on the puny integral speakers of your HD TV to get fantastic sound.
There's a rather sumptuous audio solution to hand, courtesy of a magnificent new soundbar from Sonos: the Sonos Arc.
The solution: the Sonos Arc soundbar
The Sonos Arc is the company's first foray into Dolby Atmos, the cutting-edge surround-sound tech that's made its way from film sets and post-production suites into living rooms. However, even if your TV can't process a Dolby Atmos signal, the Sonos Arc will still make a massive difference to the audio quality entering your ear canals. Voices will seem perfectly placed and crystal clear; sound distribution will seem epic compared to your TV speakers; and the bass will be deeply sonorous and richly textured.
A further benefit is that a common problem – startling volume differences between, say, the Virgin Media box and your games console caused by different inputs – will vanish, because the TV doesn't need multiple inputs and outputs through multiple cables for these devices when you install a Sonos Arc. All sound from the TV is passed into the Sonos Arc through your goggle-box's ARC-enabled HDMI output ('ARC' sands for 'Audio Return Channel').
The result? Everything comes out of the soundbar at the same volume – the volume you chose via your remote handset.
Setting up the Sonos Arc
Step one
When you unbox the soundbar – which you'll instantly see (and feel) is built with high-quality and satisfyingly weighty materials – you'll find that it comes with a compatible HDMI cable. Begin by positioning the Sonos Arc just below and in front of your TV, and then simply plug the HDMI cable into the TV's HDMI ARC port (on Samsung TVs, you'll find it on the separate 'One Connect' box).
Step two
Download the S2 version of the Sonos app onto your smartphone (be careful to select the S2, as the earlier version of the app won't work). Then stand back and let the app and the soundbar get acquainted: the app seeks out and finds the Arc fairly rapidly. You might be prompted to move from one point in the room to another while the pairing is in progress. The soundbar emits beeps during this process, which signals that it's gauging the size and sonic characteristics of the room you've placed it in.
Step three
Sit back and enjoy the sumptuous sound – and you don't have to use the soundbar's own handset for this. Your Virgin Media or Sky Q box handset, or even a universal alternative, will do fine.
You'll also be able to use Bluetooth or Wi-Fi to stream music from your smartphone.
If your TV isn't configured for Dolby Atmos audio, the blunt truth is that you won't get it through the soundbar (you'll need to upgrade your set for that). However, if you're not ready for such an expensive outlay, this is a mild disappointment as the improvement in audio that you'll enjoy even without it is striking – epic, in fact.