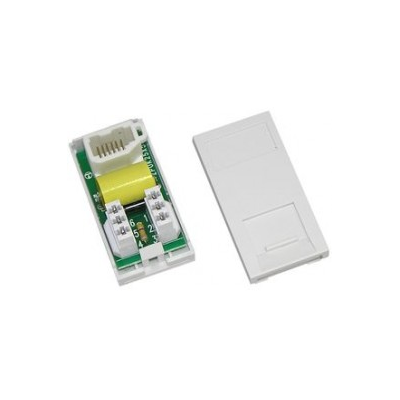 PSTN Master Euro Module.
Product Code: 53-3019-W
BT PSTN Master white euro module (2/1A) which replicates the standard linejack function.
View Specification
£0.99 ex Vat
£1.19Inc.VAT
Availability: 235 Multiple products
ROYAL MAIL 3-4 DAYS
COURIER 2 -3 DAYS
COURIER NEXT DAY
£4.99 + VAT (WEIGHT APPLICABLE)
£7.99 + VAT
£9.99 + VAT
PSTN Master euro module (2/1A) presented with IDC connections on the rear suitable for CW1308 / CAT5e cable connection. It comes supplied with self adhesive label for identifying the connection.
PSTN Master euro module
White low profile euro module, 25mm x 50mm
LSA compatible IDC connectors, Shuttered access to protect from dust ingress, 6 pin BT jack connectivity
Compatiable with standard UK frames
Technical Information
SKU: 53-3019-W
Length of Cable: Krone
Type of Material: WHITE PLASTIC