USB1.1 to PS/2 Adaptor
Code : 14-1026
Weight : 0.10 Kg
Description
A USB to PS/2 adaptor which can be used on desktop or laptop systems, and allows users to connect a PS/2 mouse and / or keyboard to any unused USB port, enabling other devices to occupy the existing PS/2 port(s). Lightweight and easy to use.
36cm in length
Gold contacts
Nickel connectors
Supports UHCI (Universal Host Controller Interface) and OHCI (Open Host Controller Interface)
Compliant with USB 1.1 and 1.0 specifications
Supports Microsoft IntelliMouse and compatible
Compatible for use with KVM switches
Easy to install, no software needed
No power adaptor needed
1.5 Mbps transfer rate
System requirements:
One Free USB Port
Any of the Following Operating Systems: Windows 98/SE, Millennium Edition, 2000, XP, Netware 4.11 / 5.0, HP Unix ,Linux, MAC OS 8.6 or Higher and Sun Microsystems
This product is compatible for use with KVM switches, PCs, MACs, Sun Microsystems and a vast range of Operating Systems.
Other Customers Were Interested In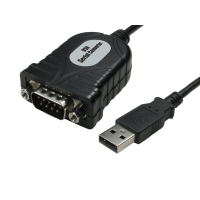 Price (inc. VAT): £7.13
Price (exc. VAT): £5.94