How to convert a flat 2 pin European plug to a 3 pin UK plug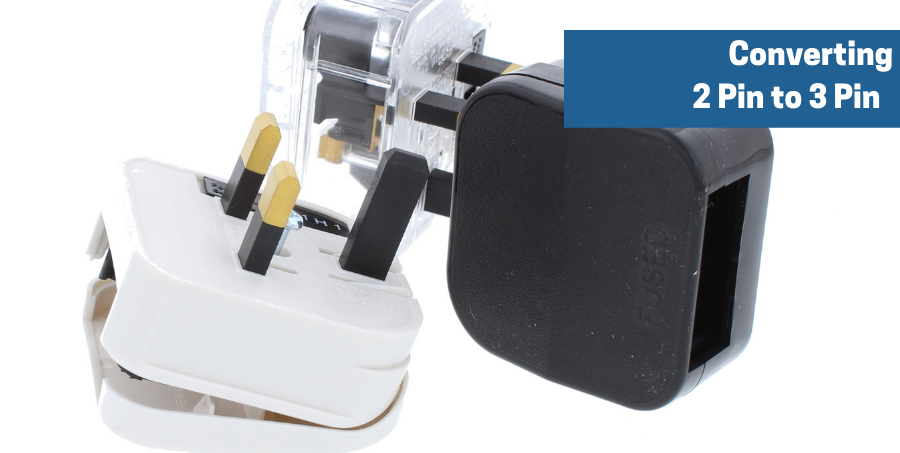 While it's true that we're all living in an increasingly interconnected world, it's also true that different global regions have varying practices and conventions — and electrical appliances are no exception to this rule.
A key example of this in practice is when European electrical equipment is to be used in the UK. The first aspect to recognise is that UK power outlets have a three-pin format for their connectors, while European countries adopt a two-pin format. Unless the appliance from Europe has a minimal amp rating (such as that found on an electric shaver or toothbrush), it's not advisable to use a standard two-pin adapter.
The three-pin/two-pin plug problem also arises if you're a UK retailer or distributor selling devices manufactured in Europe that come to you with a two-pin connector attached. UK law insists that all European electrical products must be converted to a three-pin UK plug before sale or distribution.
In short, there are very good reasons for wanting an inexpensive, fast and simple solution to this problem. At Euronetwork, we can supply you with a completely safe solution that's not only inexpensive but also fully compliant with UK law — the flat 2-pin European plug to UK 3-pin converter plug. Whether the end use is for hair straighteners, lamps, kettles, toasters, blenders or other small electrical items, our range of European to UK converter plugs is simply a must.
Our 3- or 5-amp 2-pin to UK 3-pin European Converter Plugs (ECPs) allow you to safely and legally use your European device without having to look for a plug-in converter. You simply open the hinged lid on the casing, push the 2-pin plug into the inner housing so that it clicks firmly into the electrical connection points, and close it up again, screwing it safely and securely shut. Then you're ready to go.
Alternatively, you could opt for our 3- or 5-amp 'Quickfit' European to UK Converter Plug (CP1), which is just as safe, yet simpler to set up. Just slide the flat European 2-pin plug into the diamond-shaped opening in the casing and, once fully inserted, secure firmly in place by tightening the screw.
Faster still to set up is Euronetwork's 3- or 5-amp Fast Fit European to UK Converter Plug (FCP). Again, simply slide the two-pin plug into the opening in the converter's casing and click into place without the need to tighten any screws. By performing a quick 'pull test', the user can be sure that the plug is fully in place.
Whether you're an individual consumer or a retailer with a batch of European-manufactured items with 2-pin plugs waiting for sale in the UK, waste no further time in finding the solution. Euronetwork not only as over 15 years of experience in supplying high-quality, best-price converter plugs to consumers, retailers and trade professionals alike, we also have the largest supply of stock available in the world.