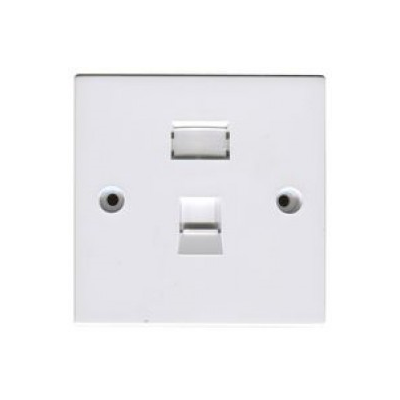 White Single Gang Cat5E Krone Wall Plate.
Product Code: 50-3141
£1.99 ex Vat
£2.39Inc.VAT
Availability: 135 Multiple products
ROYAL MAIL 3-4 DAYS
COURIER 2 -3 DAYS
COURIER NEXT DAY
£4.99 + VAT (WEIGHT APPLICABLE)
£7.99 + VAT
£9.99 + VAT
Single gang wall plate presented with a CAT5e socket. For additional security and improved appearance the CAT5E network socket is supplied with screw caps to discourage unauthorised tampering. The shuttered front aperture protects against ingress of dust. A 'slip-in' labelling field is located above each outlet for port identification.
Features :
Performs to Category 5e specifications
Industry standard LSA+ type terminations, colour coded to T568B
Labelling facility, supplied with cable ties, screws, screw caps
White single gang, 86 x 86 x 19mm
Compatible with standard UK backboxes
Technical Information
SKU: 50-3141
Length of Cable: Krone
Type of Material: WHITE PLASTIC