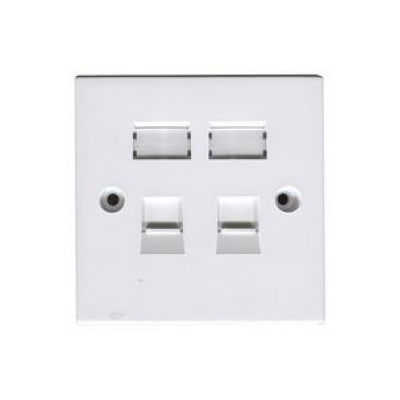 White Single Gang Twin Cat5E Krone Wall Plate.
Product Code: 50-3142
£3.49 ex Vat
£4.19Inc.VAT
Availability: 120 Multiple products
ROYAL MAIL 3-4 DAYS
COURIER 2 -3 DAYS
COURIER NEXT DAY
£4.99 + VAT (WEIGHT APPLICABLE)
£7.99 + VAT
£9.99 + VAT
Single gang wall plate presented with two CAT5e sockets. For additional security and improved appearance the CAT5E network socket is supplied with screw caps to discourage unauthorised tampering. The shuttered front aperture protects against ingress of dust. A 'slip-in' labelling field is located above each outlet for port identification.
Features :
Performs to Category 5e specifications
Industry standard LSA+ type terminations, colour coded to T568B
Labelling facility, supplied with cable ties, screws, screw caps
White single gang, 86 x 86 x 19mm
Compatible with standard UK backboxes
Technical Information
SKU: 50-3142
Length of Cable: Krone
Type of Material: WHITE PLASTIC